Why Metal Buildings Dominate Construction in Hawaii
Homeowners and business owners turn to steel buildings in Hawaii to counteract a giant challenge: the tiny termite.
Everyone living and visiting the fiftieth state agrees it is a tropical paradise. Voracious termites also find paradise in the islands' warm moist climate and abundant wood supply.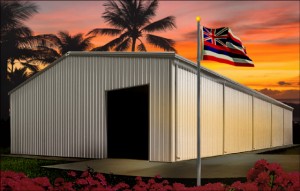 Seven different species of termites call the Hawaiian Islands home— including the King Kong of all the wood-munchers, the Formosan termite.
Formosan Termites Make Themselves at Home in Hawaii
Native to China, the subterranean Formosan termites have called Hawaii home since the 1850s.
A formidable foe in Hawaii's termite wars, Formosan termites greatly outnumber the residents. In fact, insect experts estimate there are 1,000 pounds of termites for every human being on earth.
According to industry authorities, residents and businesses in Hawaii spend a $100 million annually battling the Formosan termites alone.
A single Formosan colony population soars as high as ten million. Formosan termite queens live 25-30 years, laying 2,000 eggs every day!
Determined and relentless in their pursuit of wood, Formosan termites chew through brick, concrete, and even electrical insulation to drill their way toward a tasty wood dinner.
Every wooden structure in Hawaii requires repeated treatments with strong chemical termicides to hold the little buggers at bay. If the termites go undetected long enough, a building becomes a total loss.
One contractor told me about building a wooden staircase in termite-ridden Hawaii. "By the time I got the top tread finished, the three bottom steps had been eater away," he said jokingly.
Tackling Termites by Closing the Wood Buffet
Two things send an open invitation to Hawaiian termites: a humid environment and an abundance of wood products.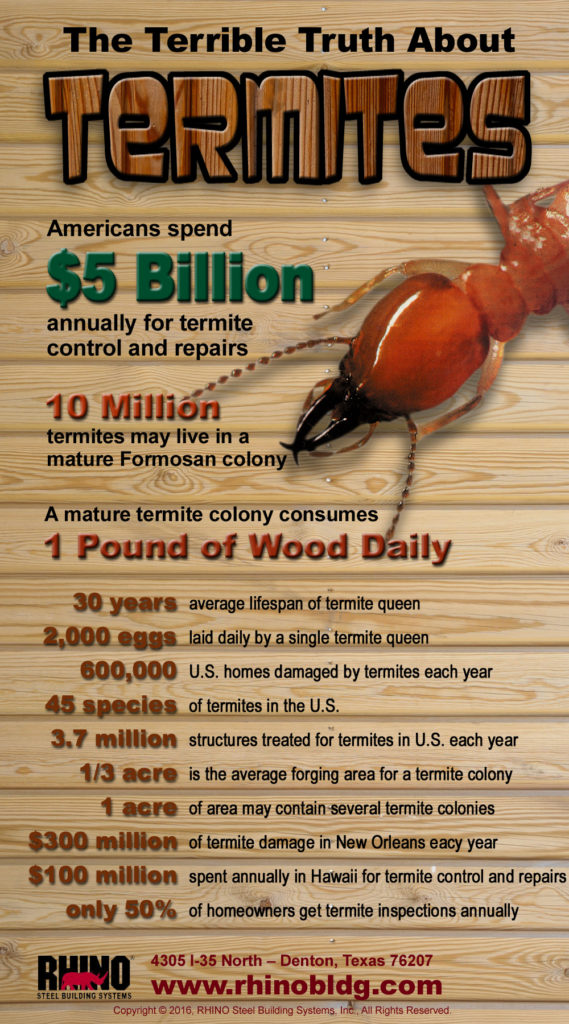 There is little Hawaiians can do about their tropical climate. However, there is a way to close the termites' structural banquet: build with steel.
Steel buildings in Hawaii do not attract those destructive munching monsters. Not even mighty Formosan termites can make a meal of steel!
It is no wonder that Hawaiians embrace steel framing so ardently. Today, steel frames over half of all Hawaiian new homes. Steel frames essentially all new commercial and industrial construction in Hawaii.
More Benefits of Metal Buildings in Hawaii
Termite protection represents only one of the many advantages steel buildings offer Hawaiians. Hawaii prefab homes, sheds, garages, and other buildings also promise:
Built-in resistance to hurricane-force winds, fire, earthquakes, mold, and lightning
An environmentally friendly, green building material with high-recycled content
Virtually no maintenance
None of the rotting, twisting, splitting, bowing, and cracking associated with lumber framing
Longer-lasting structures
Improved indoor air quality
Consistent quality not possible with ordinary lumber
Much faster construction
Cost-effective pricing
Discounted insurance
Layout flexibility with unencumbered space
Unlimited cosmetic styles
RHINO Metal Buildings in Hawaii
RHINO Steel Building Systems deliver high-quality pre-engineered metal buildings (PEMB). We ship our sturdy, low-rise structures all over North America, including Hawaii, Alaska, Canada, and Mexico.
RHINO structures offer premium characteristics on our standard designs, including many superior waterproofing features. In addition, RHINO ships optional products with the building order, such as gutter systems, skylights, overhead doors, and more.
RHINO's optional Pro-Value insulation system greatly increases energy efficiency, slashing utility bills in half.
Call RHINO now at 940.383.9566. Hear more about our commercial and industrial steel buildings in Hawaii.
Our metal building specialists offer expert assistance and provide free quotes for metal buildings in Hawaii and elsewhere. These experienced professionals happily answer all your questions about Hawaii prefab homes, garages, sheds and other RHINO building products.