Pre-engineered Metal Buildings for the Keystone State
Pre-engineered steel buildings for Pennsylvania make perfect sense. Who would be more conversant in the advantages of using steel for construction than the state literally built by the iron and steel industry?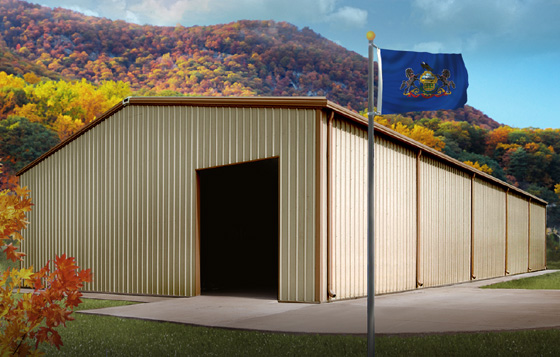 From the early 1830s to the early 1930s, Pennsylvania produced the most robust economy in the world. Iron and steel manufacturing, fabricated metals, and machinery led the charge into the industrial age.
Pittsburgh was known as "the steel capital of the world" in those days. At the turn of the last century, 360 iron and steel manufacturers operated in the city. Pittsburgh is still called the "Steel City." It is also home to the six-time Super Bowl Champion Pittsburgh Steelers.
Pennsylvania steel built many historic structures, including these:
• 110-foot-hight lock gates of the Panama Canal
• 70-ton axle for the 2,000 passenger Ferris wheel at the 1893 Chicago World's Fair
• Armaments for the Civil War
• Brooklyn Bridge
• Chrysler Building Empire State Building
• First steamboat in 1811
• George Washington Bridge
• Hangar 1 at Lakehurst, NJ- a 211,434 sq. ft. building for rigid airships
• Ironclad warships
• Rails and locomotives that expanded the U.S. to the West
Pennsylvanians know— and love— the benefits of steel.
Unique Advantages of Steel Buildings in Pennsylvania
Wildly fluctuating weather plagues Pennsylvania. Structures there need to stand up to substantial snows, screeching winds, dangerous lightning, occasional moderate earthquakes, subterranean termites, and bothersome condensation caused by excess humidity.
RHINO steel buildings for Pennsylvania meet these challenges. Our prefabricated metal buildings offer the strength and versatility needed there.
The winter of 2013-2014 produced 11 storms in Philadelphia, dumping almost five feet of snow on the city. RHINO metal buildings for Pennsylvania meet local snow loads. You can request even higher loads, if you desire.
RHINO structures also meet all requirements for high winds and seismic activity.
Did you know that Pennsylvania ranks third in the U.S. for lightning damage? In a RHINO structure, the grounded steel framing conducts lightning strikes safely to the ground, preserving the property and offering metal building lightning protection. Wood framing resists the current of lightning, igniting. Fire is far less likely to start in a metal framed structure. Consequently, many insurance companies offer big discounts for metal buildings.
No termite can make a lunch of steel framing, eliminating another worry.
RHINO structures use only commercial-grade rigid steel framing. Our structures are guaranteed to meet or exceed all local building codes in North America— for the lifetime of the structure!
Humidity Problems and Metal Buildings for Pennsylvania
Hyper-humid areas in Pennsylvania may experience condensation and moisture problems in buildings. RHINO's steel buildings for Pennsylvania have built-in waterproofing features to combat moisture problems.
Mold and mildew can be a nuisance in highly humid areas. Unlike wood, steel is inorganic and does not support mold or mildew growth.
Adding RHINO's optional Pro-Value Insulation package adds further protection— and terrific energy efficiency.
Applications for RHINO Steel Buildings in Pennsylvania
Steel spans much farther with less material than any other building material, maximizing the use of floor space. That makes pre-engineered steel idea for structures like:
• Aircraft hangars
• Barns
• Churches
• Distribution centers
• Equestrian riding arenas
• Equipment shelters
• Industrial operations
• Manufacturing facilities
• Processing plants
• Warehouses
• Wineries
While steel operations still flourish in Pennsylvania, the service sector now makes up 75% of the commonwealth's work force. This market needs strong and versatile steel buildings for their commercial operations.
Commercial builders appreciate the time saved erecting a pre-engineered metal building for Pennsylvania. Everything arrives ready to assemble with bolts and screws. Since fewer pieces are required to build a stronger structure, the framing erection is fast-paced and simple. RHINO steel buildings work well for retail stores, offices, restaurants, and other commercial endeavors.
Individuals also enjoy the fast and easy assembly for their residential accessory buildings. Build detached garages, RV and boat garages, workshops, storage buildings, and hobby rooms with the RHINO system. Do-it-yourselfers can save by erecting the framing themselves with a few friends.
Call RHINO Now
RHINO metal buildings for Pennsylvania promise durable service, long-lasting beauty, and extremely low maintenance.
Call one of our dedicated steel-framing specialists today. We specialize in making your purchase to completion as seamless as possible.
Call 940.383.9566 for the best value in steel buildings.