Why Contractors Choose Metal Buildings Again and Again
The steel building benefits for builders make pre-engineered metal buildings the best choice for all low-rise commercial and industrial projects. The superiority of steel is evident: steel now frames 65% of all commercial projects and 95% of all industrial construction.
Price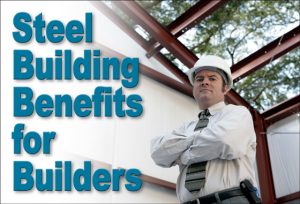 Construction is a highly competitive business. Successful builders keep a sharp eye on the bottom line. Contractors overwhelmingly choose pre-engineered steel framing because it is the most economical building system.
Convenience
A good steel building company takes the hassle out of ordering. They know their product and understand the specific needs of the various commercial and industrial applications.
Confidence
A first class steel building company provides fast, accurate quotes that a builder can trust to make his own bid to the client.
Pre-engineering
An engineer licensed in that state certifies a pre-engineered steel building. The engineering includes point loads for overhead cranes, roof-mounted air conditioners, or other add-on equipment.
Prefabrication
Skilled professionals fabricate the steel framing components to exacting industry standards. Every piece is cut, welded, drilled, painted, and marked for easy identification. There is no need to cull through a pile of lumber, discarding inferior pieces.
Options
A full-service steel building company offers many options and accessories. Builders order gutters, insulation packages, skylights, doors, and more at the same time as the framing. Everything ships to the job site with the steel framing.
Wide Spans
Many commercial and industrial applications demand wide, obstructed spaces. No other building material matches the clear span capabilities of a rigid-iron steel building system. Interior construction is easier when load-bearing walls are unnecessary.
Low Shipping Costs
After placing the order, the company sends shop drawings to the manufacturing plant closest to the job site, keeping shipping charges to a minimum.
Fast Delivery
The quicker a builder gets the framing package delivered, the sooner construction begins. A "basic box" steel building design delivers in four to five weeks. Larger, more complex orders usually arrive in six to seven weeks
Guarantees
Five-star steel buildings guarantee that the framing meets or exceeds all current local building codes. Steel sheathing, roof panels, and options also come with individual guarantees.
Faster Assembly
Faster construction is one of the chief steel building benefits for builders. Every piece of the framing kit is ready for quick bolt-together assembly. Steels superior strength means far fewer pieces create a much stronger structure. Erecting a metal building cuts construction time by 33% or more over other building methods. That is a huge labor savings. Most builders find steel building projects require fewer workers, too, saving even more on labor costs.
Cheaper Insurance
Shorter construction time saves money on a builder's risk insurance.
Easier Cleanup
One of the often-overlooked steel building benefits for builders is cleanup. Wood and concrete building systems mean paying for construction debris to be hauled away to a dump. The pre-engineering and prefabrication of a steel package means less building material waste and less clean-up costs. Any remaining steel is sold to metal scrap yard.
Reduced Call-Backs
Callbacks are a hassle. Steel buildings go up straight and stay plumb for the lifetime of the structure. Gone are the callbacks from disgruntled customers over nail-pops, wall cracks, water leaks, or doors and windows that do not shut properly. A steel builder leaves the finished job free to focus on the next building project.
RHINO Steel Building Benefits for Builders
The greatest advantage RHINO Steel Building Systems offer contractors is satisfied customers. Contractors build their success on a reputation for quality. Happy customers mean more repeat business— and more word-of-mouth referrals.
Lee Ramsey, president of Links Construction LLC, says he tried several pre-engineered steel companies, but found them lacking. Then a friend told him about RHINO. The professionalism of RHINO impressed Ramsey from the start.
"RHINO is wonderful to work with," says Ramsey. "They always follow through with what they say they will do. Once I started using RHINO, I stayed with them."
Try us just once and you too will be hooked on RHINO! Call us today at 940.383.9566.