Why Industrial Developers are Hooked on RHINO Metal Buildings
Developers of Gateway Business Park in Argyle, Texas, chose RHINO for their steel building industrial park. The business center includes a prefabricated metal building purchased from RHINO Steel Building Systems of Denton, Texas.
Location, Location, Location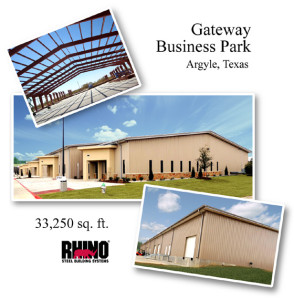 When planning any real estate development, location is everything. This is especially true for commercial and industrial parks.
The Gateway Business Park developers chose their location wisely. The 25-acre park rests only a quarter mile from busy Interstate 35, just south of Denton, Texas and north of the Texas Motor Speedway.
Denton, Fort Worth, and Dallas form what is known as the "golden triangle" of North Texas. Business expansion into the area in recent years has been robust. WalMart, Target, Amazon, and a host of other mega-sized companies now have distribution centers in the area.
Denton earned the coveted number one spot on the "Best Small Towns in America" list by the Rand McNally and "USA Today."
Clean-Energy Leader
Denton is also known for its stand on environmental issues.
With more wind power per capita than any other city in the U.S., Denton claims the title as the "Lone Star State's Clean-Energy Leader."
Green building practices matter to Denton builders.
RHINO prefabricated steel buildings incorporate many eco-friendly benefits, like these:
Steel is the most recycled material in the world.
Steel is 100% recyclable.
RHINO steel framing contains up to 90.7% recycled steel.
Recycling steel reduces greenhouse emissions over producing virgin steel.
Mold cannot grow on inorganic steel.
Termites cannot devour steel, eliminating the need for harsh chemical treatments.
Steel buildings with RHINO's optional Pro-Value insulation system cut energy consumption by 50%.
Metal buildings last decades longer than other construction materials.
At the end of its usefulness, steel recycles again— other building materials are dumped into landfills.
Steel can be recycled countless times without losing any of its strength.
Gateway Business Park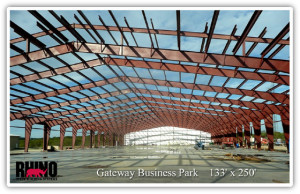 The RHINO structure built in the Argyle industrial park covers 33,250 sq. ft. The 133' x 250' x 20' steel building is constructed to adapt to the tenant's size requirements. The entire width of the building is clear span, providing total floor plan freedom for each of the occupants.
The building's design allows tenants to lease space in 5,000 sq. ft. increments. Office areas are built to the tenant's specifications.
The exterior of the structure is accented by attractive V-shaped covered entryways and stone trim. Loading docks across the rear of the structure allow easy loading and unloading of materials.
Streetlights, curbing, and landscaping complete the professional look of the RHINO steel building.
Many Reasons to Choose Pre-engineered Industrial Steel Buildings
RHINO steel buildings shine in all applications, including industrial structures. We ship buildings all across North America for use as churches, hangars, commercial structures, retail centers, offices, warehouses, distribution centers, recreation facilities, and more.
Imagine the possibilities of using RHINO steel buildings for your next building projects!
Please call RHINO today at 940.383.9566 to discuss your project. Our products and service are second to none!