Out of the Rubble: Coping with Disaster Debris
As we said in Part 1 of this series, construction and demolition debris includes waste generated by natural disasters.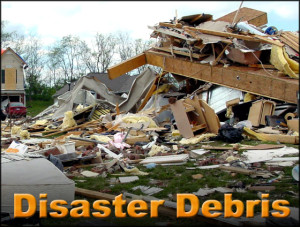 Earthquakes, tornadoes, floods, hurricanes, and fires create massive amounts of rubble. Devastated cities and towns, already overcome by the human crisis, face the insurmountable task of clean up in the aftermath of destruction.
How Much Construction and Demolition Debris is Generated in Disasters?
Every natural catastrophe produces its own signature of construction and demolition debris.
The amount of destruction is unbelievable: Look at these figures on recent disasters:
In August 1989, Hurricane Hugo made landfall in Charleston, North Carolina, before cutting a swath of destruction inland. Hugo ground up and spit out 18 million cubic feet of debris in Charleston— an estimated 200,000 dump truck loads. Hugo toppled 80,000 trees in Charleston. The storm decimated 70% of the trees on the Francis Marion National Forest in South Carolina— a total of six billion board feet of lumber. In Mecklenburg County, North Carolina— 200 miles from Charleston— Hugo created over 400,000 tons of shredded trees, shrubbery, and landscaping— ten years of green waste generated in just three hours! It took 16 months to complete the mulching.
In August 1992, Hurricane Andrew devastated Dade County, Florida, creating 387 million cubic feet of disaster debris, destroying and damaging over 150,000 homes and thousands of businesses. Over 500,000 tons of splintered trees and wood were mulched and distributed to farms, parks, landscapers, and individuals.
In May through September of 1993, floods covered 20 million acres in the Midwest, destroying 50,000 homes and thousands of businesses. Seventy-five communities were completely under water. Even those structures not destroyed contained ruined furniture and belongings which required disposal. The true volume of debris is incalculable. Debris collection sites ran 24-hours a day.
In January 1994, the Northridge Earthquake struck Los Angeles, California, leaving 63 million cubic feet of construction and demolition (C&D) debris.
In August 2005, Hurricane Katrina pounded the Gulf Coast of the U.S., producing an estimated 900 million cubic feet of wreckage just in New Orleans.
In March 2011, an earthquake followed by a tsunami struck Japan, crumbling buildings and sweeping the wreckage out to sea. Two years later, debris from the Japanese tsunami was still washing up on the West Coast of the U.S. and Canada.
In May 2011, a killer tornado struck Joplin, Missouri, blazing a trail of destruction a mile wide and eight miles long. In all, 9 million cubic feet of C&D debris were collecting in the aftermath of the storm.
What Is Included in Disaster Waste?
C&D disaster debris is separated into distinct categories for proper disposal, including:
BUILDING MATERIALS: Brick and stone, cabinetry, carpeting and flooring, concrete, electrical wiring, glass, insulation, lumber and sheathing, metals, shingles, siding, wallboard, windows and doors, etc.
ELECTRONICS: Computers and peripherals, DVD players, stereos, televisions, etc.
HAZARDOUS MATERIALS: Asbestos (often in buildings built before 1975), batteries, cleaning supplies, herbicides, oil, pesticides, paint and varnishes, etc.
HOUSEHOLD ITEMS: Bedding, dishes and glassware, decorative items, furniture, drapes, rugs, etc.
MAJOR APPLIANCES: Air conditioners and heaters, dish washers, refrigerators and freezers, washers and dryers, water heaters, etc.
MUNICIPAL SOLID WASTE (MSW): Garbage, discarded food, paper, packaging,
PERSONAL ITEMS: Clothing, jewelry, mementos, photos, etc.
VEGETATIVE WASTE: "Green waste" includes grass, plants, landscaping and yard materials, leaves, shrubs, and the like; "wood waste" includes larger tree branches and trunks, which can be ground into mulch.
Reusing and Recycling Disaster Debris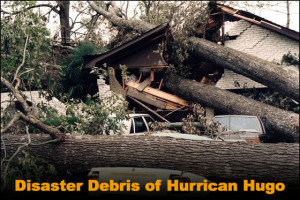 Every municipality needs a disaster debris plan in place before disaster strikes. Communities with a disaster debris management plan recover more quickly than those without a plan of action.
Including recycling as part of the disaster waste disposal plan has proven to be more economical that simply dumping mixed debris into landfills. Recycling disaster debris reduces the strain on overburdened landfills, saves money on disposal, and actually makes money through resale of materials.
Examples of recyclable debris materials include:
• Reclaimed soil used for landscape cover.
• Green waste processed into compost or much material.
• Asphalt and concrete crushed into road sub-base material.
• Brick and stone sold as landscaping trim or ground up to use on baseball infields.
• Metals like steel sold to scrap dealers for recycling.
The demolition of homes and buildings deemed structurally unsound also presents opportunities for recycling.
Pre-engineered Steel Buildings in Disasters
RHINO steel buildings are designed and engineered to meet or exceed all local building codes. Steel provides the best protection against natural disasters. It offers the strongest strength-to-weight ratio of any building material. Steel buildings are highly resistant to damage from strong winds, fire, lightning, and earthquakes.
Steel buildings last longer, retain their value longer, and stand up to Mother Nature better than any other building material.
Eco-friendly RHINO steel framing contains recycled steel. At the end of its usefulness, a RHINO steel building is 100% recyclable.
Build green and build for safety with RHINO metal buildings. Call us for details: 940.383.9566.