Conserving Water with Gutters and Rain Barrels
Rain gutters for metal buildings have one major job: to move water away from the structure.
Why stop there? Go "green" by conserving the runoff water and learn how to collect rainwater from gutters.
Rain Barrels: The Eco-Friendly Choice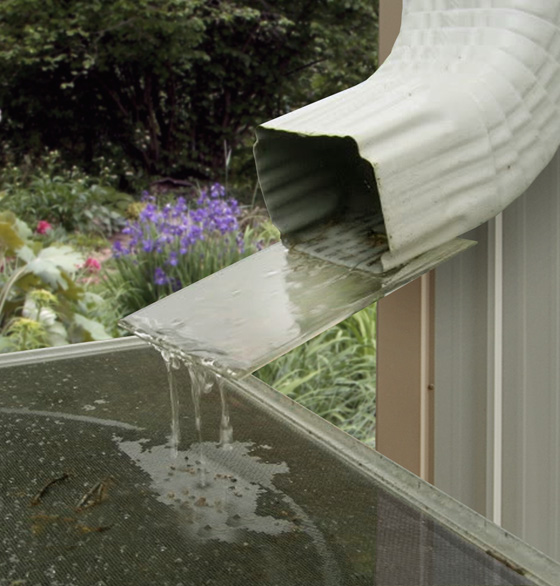 In the first part of this series on rain gutters for metal buildings, we covered the advantages of including gutters and downspouts with your pre-engineered steel building orders.
The option of rain water collecting for other uses is another benefit offered by rain downspouts and metal building gutters.
Rain barrels are not a new idea. Your grandparents and great-grandparents probably used rain barrels to harvest water. Rain barrels are still an excellent idea today.
Save Water— and Money— with Rain Collection Systems
Think rain gutters for metal buildings will not yield enough water to bother with it? Guess again.
Most people do not realize just how much free water is available during a rainstorm. A 40' x 60' steel building, for example, could collect almost 1,500 gallons of water for every single inch of rainfall. A 1.5" rainstorm on a 50' x 100' metal building with a collection system could conserve over 4,600 gallons of water!
Every gallon made from rain water collecting is a gallon not on your water bill.
Rainwater benefits plants and landscaping, too. All gardeners know rainwater makes plants thrive much better than chemical-laden municipal water.
Any type of clean container will work as a rain barrel for rain water collecting. Covering the container with a fine mesh keeps debris, insects, and mosquitos from invading the water supply. A lid should cover the container when not in use.
You will find a number of rain barrel and tank ideas available online. A barrel with a spigot at the bottom— which connects to a garden hose— works especially well for watering plants and trees.
Be sure to include an overflow system to direct any excess water away from the structure.
Choose RHINO Gutter Systems
Metal building gutters are not only functional, but attractive. They create a professional, finished look to a steel building. Metal building gutters also double as trim for a steel building and help with rain water collecting.
RHINO steel gutters and downspouts are available in an array of colors to either match or contrast with the metal building exterior. All installation hardware is included.
We strongly recommend gutter systems— especially for commercial buildings— except in areas where ice storms and snowstorms make gutter systems impractical.
Over 60% of RHINO customers choose to include the optional gutter and downspout package. Find out more info on our metal building gutters by calling RHINO at 940.383.9566.