Procrastination on car repairs pays… the auto shops
Americans are keeping their cars and trucks longer these days.  When consumers do finally trade vehicles, more people now choose used vehicles instead of new.  Both these trends translate into increased business for auto repair shops. That is what makes today a great time to build a new automotive repair shop— or to expand a current auto business—with prefabricated metal shop buildings.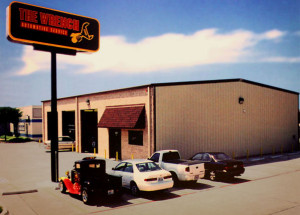 Older cars on the road mean more business for auto shops.  The average auto repair bill in the U.S. was about $368 in 2012.
Car Problems Not Addressed Now Lead to Higher Costs Later
Many consumers try to save a buck by postponing car maintenance and repairs.
When people delay preventative maintenance like oil changes, transmission servicing, tune-ups, and lube jobs, eventually they will be unable to avoid the even bigger repairs caused by procrastination.  Ignoring a $10 spark plug problem could lead to a $300 ignition coil and spark plug repair.  Continuing to close your eyes to the problem even longer and you have to dish out $1,000 for a new catalytic converter.
According to "CarMD," ignoring common auto repairs may also reduce gas mileage.
For example, that "check engine" light on your dash may be a faulty O2 sensor.  Gas mileage may drop by 40% if replacing the sensor is postponed!
Metal Buildings for the Auto Repair Industry
RHINO prefabricated steel buildings make amazing prefab auto repair shops and metal shop buildings. Features include:
Fast, easy framing erection
Strong metal buildings that retain their good looks value for decades
Greater protection from fire, high winds, heavy snow on metal roofs, termites, mold and earthquakes
Attractive color choice for the sturdy exterior steel panels and trim— or choose to finish the exterior in stucco, block, brick, stone, or any other typical exterior finish
Pro-Value insulation packages and insulated overhead doors
Lots of options from which to choose
Simple future building expansion
Quick delivery from one of multiple shipping points
Fast, friendly, and experienced service
Order the Auto Shop of Your Dreams Today
Call RHINO today for a free estimate on an auto repair shop building or other commercial, industrial, or residential auxiliary structure metal building.  Call 940.383.9566 for more information on metal shop buildings.