Collect Rents Instead of Paying Rents by Leasing Office Space
As we discussed in our last post, all growing businesses someday demand larger office buildings. Business owners must choose to find an appropriate space to lease— or to construct their own office building.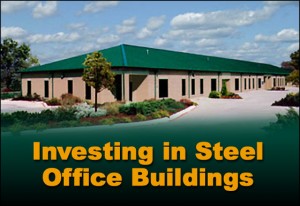 There is a third option: building a larger structure than your business requires and leasing the additional space.
Building a dual-purpose structure presents several great benefits.
First, the income from rental unit or units helps offset the cost of a new building. Secondly, you are on hand to be sure your property treated well.
Owning commercial rental property provides multiple future options:
If your business continues to grow, you simply expand into all or part of the rental space when the tenant's lease expires.
Should your business experience economic setbacks, downsizing your office allows you to lease the additional area, creating more income.
When you retire, the rental space continues to produce income.
Even if you sell your business, you continue to collect rent from the new owner and remaining tenants.
The rents you pay leasing office space disappear. Owning your own property is an investment for your future.
Why Steel Office Buildings?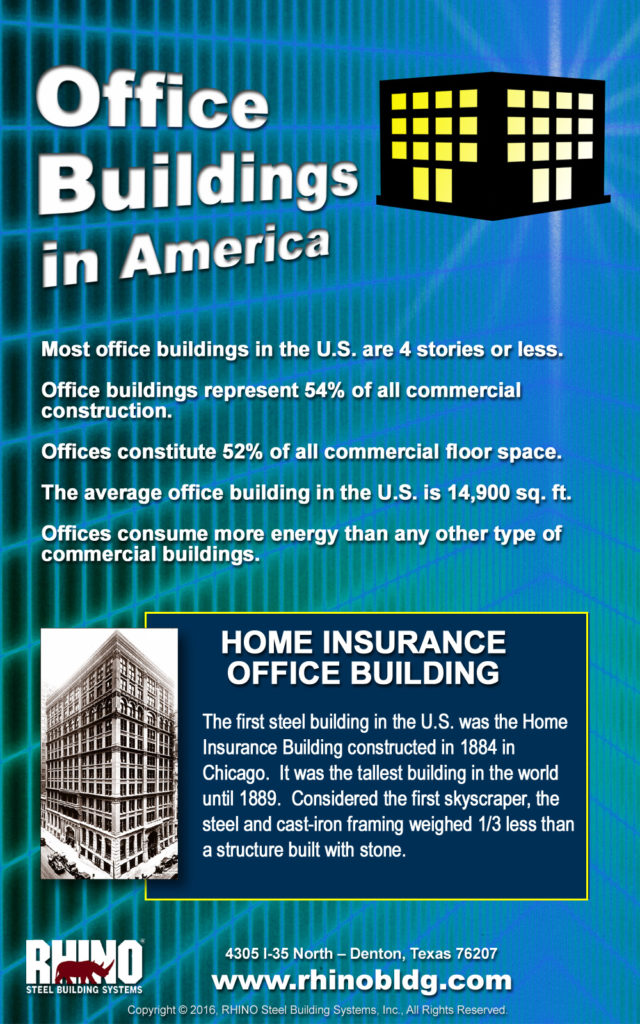 Even if you do not need office space for your own company, office buildings make terrific investments.
Pre-engineered steel systems provide distinct advantages to investors constructing low-rise office buildings.
FLOOR PLAN FLEXIBILITY: You need to be able to adapt the rental space to an incoming tenant's specific needs. Clear span steel structures simplify build out and remodeling. Without the need for load-bearing walls, new configurations of the floor plan are unlimited.
LOW OPERATING COSTS: Properly insulated, prefabricated metal buildings cut utilities in half. Steel buildings do not require expensive termite treatments. Inorganic steel does not foster mold and mildew problems. Steel buildings need very little maintenance. The fire-resistant properties of commercial-grade steel earn much lower insurance rates. Steel buildings retain their value and beauty for decades longer than wood structures, so your investment remains secure.
RHINO provides a premier steel building system with many benefits not included by other metal building companies. Acquaint yourself with the many perks we call The RHINO Difference.
Whether you are planning construction of office buildings or other commercial and industrial building projects, give RHINO a call today at 940.383.9566. Our metal building specialists will answer all your questions and supply free, no obligation quotes.