Completing Phase 2 of the RHINO Business Park in Denton, TX
RHINO ships strong, durable industrial steel buildings all across North America.
Recently, we at RHINO embarked on our own odyssey into real estate development. With decades of experience in prefabricated metal buildings— and a yearning to conquer new horizons— we plunged into developing a commercial/light industrial park.
Phase 1 of the RHINO Business Park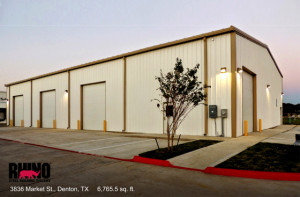 Our last post covered the renovation of the two existing metal buildings on the property we acquired in Denton, Texas.
When completed, the RHINO Business Park will include ten commercial/industrial structures to be used as warehouses, manufacturing plants, or offices.
Phase 2 of the RHINO Business Park
Phase two of the development started with two new RHINO prefabricated metal industrial buildings.
The first structure covers 6,765 sq. ft. and measures 61.5' x 100'.
This building includes four 12' x 14' insulated overhead doors with automatic lifts and two walk-in doors with windows. Eight-foot steel panels line the interior walls. We prepped the structure to include a small office area with bathroom— and a sprinkler system, if desired.
The second metal building is slightly larger at 7,000 sq. ft. and measures 70' x 100.
We configured this building with two 12' x 14' insulated overhead doors in the sidewall and two in the endwall. As with the first structure, this 7,000 sq. ft. RHINO steel building includes 8' steel liner panels on the interior walls and two steel personnel doors with glass windows.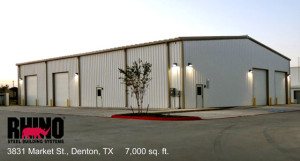 Both metal industrial building structures soar to 20' at the eave heights.
Using 6″ thick roof insulation and 4″ insulation in the walls, both these structures provide potential tenants with excellent energy efficiency.
Phase 3 of the RHINO Business Park
The next phase of construction begins in two months, with two more RHINO steel industrial buildings.
Visit www.RhinoBizPark.com for more details. We will build to suit the client, while space remains open.
What We've Learned So Far
This foray into real estate development has been an educational, edifying— and sometimes exasperating— expedition. An often exhilarating ride, we have found this project truly testing both our mettle— and our metal buildings.
While it has been more challenging than we imagined, it has also been more rewarding, too. We've gained new insights into the building processes faced by our real estate developer clients. We learned to work with zoning boards and city planners.
We anticipated an unknown tenant's needs by constructing versatile structures which adapt easily to a variety of uses.
So why did we decide to build our own business park? That is a discussion for our next blog.
Whether you need industrial steel buildings, a church, commercial structures, an aircraft hangar, agricultural structures, a self-storage development, or a backyard multi-purpose building, RHINO delivers the best deal in steel.
Call RHINO today for a free quote of your upcoming building project. If you plan to build in the Dallas/Fort Worth area, ask about using our local erection team on your project.