Wildfires Continue to Burn Up Resources and Tax Dollars
At this moment, there are 68 wildfires burning across the Northwestern U.S.
The scope of these devastating conflagrations in recent years boggles the mind. Although local and federal firefighters alike valiantly battle the blazes, the sheer number of wildfires seems overwhelming.
The Basics of Wildfires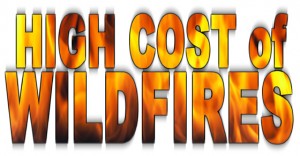 Fire is the most destructive natural force known to man.
Wildfires are unplanned burns. Small grass fires, brush fires, and forest fires become wildfires when they quickly spread out of control. Also sometimes called wildland fires, these devastating infernos gobble up everything in their path.
Mega-fires are wildfires that burn though 100,000 acres or more before being extinguished. According to "Wildfire Today," mega-fires are on the rise in the U.S. Before 1995, the nation averaged one mega-fire per year. Since 2005, the average has skyrocketed to 9.8 mega-fires each year.
Mega-fires represent a small percentage of total wildfires, yet can devour 90% of the federal fire suppression budget.
Drought conditions in the Western U.S. will likely continue to fuel wildfires and mega-fires. Climate changes have extended the length of the average fire season by 78 days.
Wildfires in 2015
Although it is only September, the 2015 fire season to date is already one of the worst on record.
Wildfires have consumed 7.1 million acres in the U.S. so far this year— with many still burning.
An astonishing 30,000 firefighters and support staff are currently working to suppress wildfires across the U.S.
Active duty military personnel are being used support weary, over-extended firefighters.
One fire north of San Francisco destroyed over 20,000 acres of land in only five hours.
In 1995, the U.S. Forest Service devoted 16% of its annual budget to fire suppression. This year, they expect to burn though 50% of their budget fighting wildfires— a total of $708 million. That leaves far less money for forest service restorative projects.
The Real Tragedy of Wildfires
Economic considerations aside, the real tragedy of wildfire is the loss of life.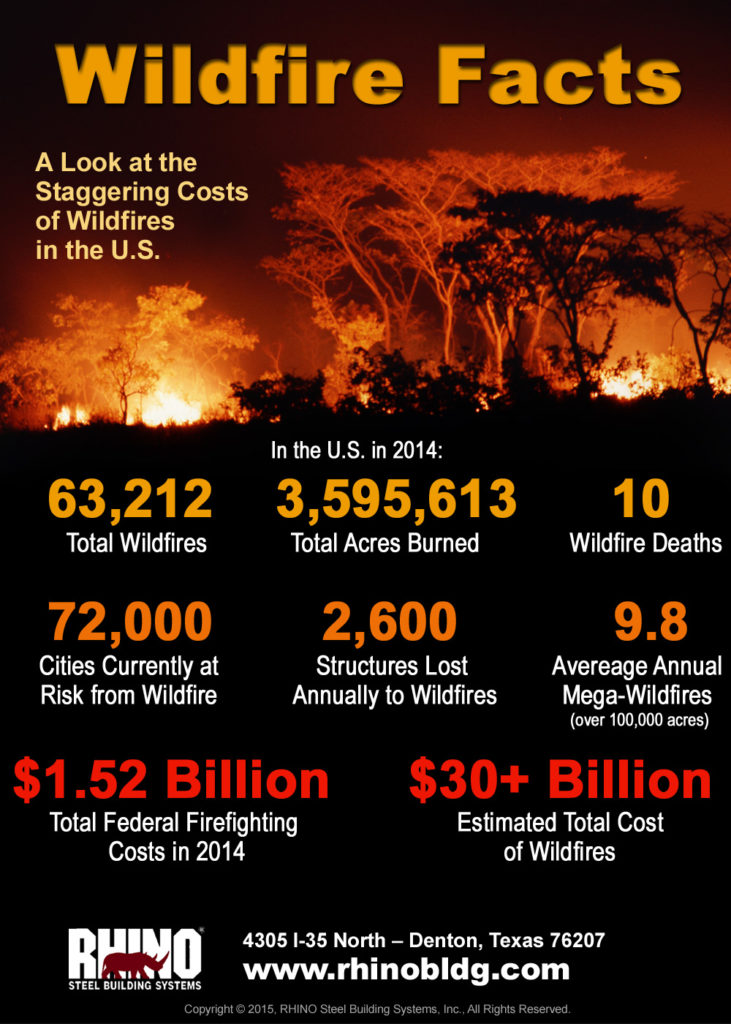 Just ten days ago, three firefighters died in Washington when fire overtook their vehicle. Three years ago, 19 firefighters lost their lives battling a wildfire north of Phoenix when the wind shifted unexpectedly, trapping them in what was previously considered a "safe" area. Seven years ago, nine firefighters died in a helicopter crash near Redding, CA.
Fire-Resistant Steel Buildings
While no structure offers complete fire protection from a wildfire, steel buildings do provide increased fire resistance. As a non-combustible material, steel does not fuel a fire like wood framing.
The fire resistance of commercial grade steel framing earns substantial discounts with most insurance carriers.
In addition, steel is more resistant to damage from lightning— another cause of fires.
For additional fire safety in buildings, consider adding sprinklers to your steel building projects.
Call RHINO Steel Building Systems to learn more about affordable, durable, fire-resistant steel buildings. Call us right now at 940.383.9566. An experienced steel building specialist will answer your questions and provide a quote for your next low-rise building project.