Cashing in on America's Leisure Time Activities
When Mother Nature turns nasty, Americans turn to indoor activities in recreational buildings.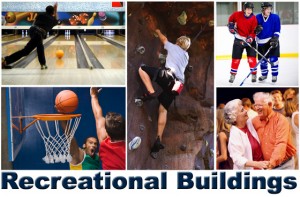 Did you know the rocking chair is an American invention? Even at rest, Americans feel the need to move. Consequently, we spend much of our leisure hours in active pursuits like sports or games.
Recent statistics show 96% of Americans engage in some sort of recreational activity every day. According to the U.S. Bureau of Labor Statistics, Americans spend an average of 37.1 hours per week on leisure activities.
Many of us are part-time couch potatoes. Studies show Americans devote over 50% of available leisure time passively watching TV, on the computer, or playing video games. Yet we still find time for more active leisure pursuits.
Cashing in on Bad Weather
Americans work hard— and play hard. Our discretionary time is important— and we prove it with our discretionary dollars. We expend, on average, 8.7% of our income on our leisure— almost triple the amount spent by the last generation.
Picture-perfect days seem only to happen when you are too busy to play. When you have the time for therapeutic recreation, the often weather refuses to cooperate. It is either too hot, too cold, too windy, too rainy on your day off.
Coveting a chunk of the $190.5 billion spent annually by Americans for recreation, smart investors have found a real niche: indoor leisure activity centers. By creating commercial recreational buildings, they lure in pleasure-pursing customers— and their leisure dollars— inside.
The commercial possibilities for commercial indoor leisure pursuits appear endless:
• Arcades
• Baseball batting cages
• Basketball courts
• Billiard halls
• Bowling centers
• Golf driving ranges
• Handball courts
• Hockey rinks
• Ice rinks
• Kids' playscapes and ball pits
• Paintball arenas
• Putting greens
• Racquetball courts
• Rock climbing facilities
• Roller rinks
• Skateboard centers
• Squash courts
• Swimming pools
• Tennis courts
• Trampoline centers
• Video simulated golf courses
• Volleyball courts
• Water parks
Recreational building investors find that by diversifying their attractions at one location, they broaden their appeal. Multi-purpose sports centers and other facilities bring in a wider range of clientele.
Non-Profit and Civic Recreational Centers
Not all leisure activity centers seek to create profit. Many cities and towns construct recreational buildings for youth centers or senior citizen centers. Civic centers provide auditoriums for concerts, art and craft fairs, local theater plays, or other entertainment possibilities.
Some churches choose to erect recreational centers for similar purposes: concerts, youth activities, or other church social functions.
Choosing Steel Recreational Buildings
Pre-engineered metal buildings meet the specific criteria for leisure activity centers far better than other building systems. RHINO prefabricated steel recreational buildings are:
• 100% recyclable steel and green
• Affordable
• Attractive
• Cheaper to insure
• Clear span for maximum floor plan freedom
• Consistent in quality
• Durable
• Easy to expand
• Economical to operate
• Faster to erect
• Fire resistant
• Lightning resistant
• Low maintenance
• Mold resistant
• Simple to insulate
• Sized up to 300' wide, 40' or more, and unlimited lengths
• Strong
• Termite resistant
• Versatile
Ask RHINO about recreational buildings for your next leisure or civic project. Phone 940.383.9566. Speak to a RHINO steel building specialist today!