How a Steel Warehouse Survived the San Francisco Earthquake
After spending most of my adult life in the pre-engineered steel building business, I am always intrigued by the history of steel structures. Recently I encountered a fascinating story about a steel storage building built in 1906.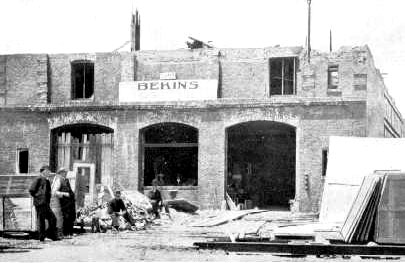 The great San Francisco earthquake struck on April 18, 1906. Estimated by modern seismologists to have measured between 7.7 and 8.2 on today's Richter Scale, the earthquake reduced the busy metropolis to rubble. In less than a minute, the city lay in ruins.
Fires ignited by the quake burned for three days, destroying nearly 500 city blocks. An estimated 3,000 people died. Four thousand were left homeless.
A Steel Storage Building that Stood Up to the Earthquake
Nearing completion when the quake hit, the new Bekins Storage Warehouse suffered only minimal damage. Although the brick facade cracked, the interior steel framing remained intact, according to a U.S. Geographical Report issued in 1907.
At the time of the earthquake, Bekins had just replaced their horse-drawn freight wagons with motorized moving vans. The company quickly used the motorized vans to gather the homeless at their warehouse for temporary shelter, as frightening aftershocks and devastating fires rocked the city.
Today a Steel Building is Still the Best Defense against Natural Disasters
Over 100 years later, there is still simply no stronger building material than steel.
Thanks to innovations in the production of steel, the manufacturing of steel components, and engineering software, a prefabricated steel building today is strong, durable— and economical.
Metal buildings repeatedly perform better in earthquakes, hurricanes, fires, and other natural disasters than any other building material. (See "Rhino Metal Building Survives Derecho And Hurricane Sandy.") Today RHINO Steel Building Systems delivers high-strength prefab metal buildings all across the U.S., Canada, and Mexico. Our attractive and versatile structures provide the best in protection at the best price.
Whether you need a structure for an aircraft hangar, agricultural building, church, commercial or industrial building, storage, or warehouse, a RHINO-tough pre-fab metal building fits your requirements and your budget.
For a FREE QUOTE or more information on all the uses for RHINO-tough metal buildings, call now: 940.383.9566.