Why RHINO Steel Buildings Include Formed Base Trim
Metal building formed base trim is not the only way to attach steel wall panels. However, it is the best way.
Formed base steel building trim improves the durability— and appearance— of pre-engineered steel buildings.
The Notched Concrete Foundation Method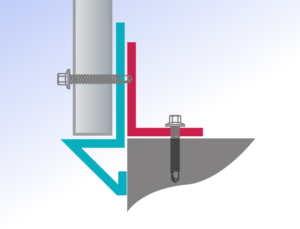 While RHINO steel buildings can be built on concrete piers or perimeter walls, most customers choose to build on a concrete slab.
Exterior steel panels cannot rest on the slab floor. The panels need to extend below the floor level to avoid leaks into the building.
The two main ways to accomplish this are notched concrete slabs and formed base metal building trim.
In ordinary notched concrete foundations, the contractor pours a lip around the outside of the slab, lower than the main floor. This notch allows the bottom of the steel wall panels to rest in the notch, below floor level.
The Formed Base Trim Method
Metal building formed base steel building trim creates a barrier between the bottom of the exterior wall panels and the interior floor. A steel base angle bolts to the edge of the concrete floor. The formed base trim attaches to the base angle, forming a ledge below the exterior steel panel.
Our metal building trim components eliminates the need for a notched concrete slab.
7 Reasons RHINO Recommends Using Formed Base Trim
1. SAVES TIME: Creating a slab for formed base trim is much faster and easier than pouring a notched foundation.
2. SAVES MONEY: Notched slabs use more concrete, increasing foundation costs. On a 5,000 sq. ft. building, for example, the notched slab would cost about $300 more than a plain slab used with formed base steel building trim.
3. SAVES HASSLES: If the concrete contractor pours the notch imperfectly, installing exterior paneling becomes very challenging. Exterior steel panel installation is much easier with formed base metal building trim.
4. INCREASES EYE APPEAL: Available in colors to match the exterior wall panels, formed base metal building trim helps create a more attractive, professional-looking structure.
5. INCREASES DURABILITY: The lips in notched concrete foundations collect water, causing panels to rust, corrode, and discolor. Leak-resistant formed base trim shed water, protecting the wall panels from deterioration.
6. INCREASES EFFECTIVENESS: Wicking is often a problem with notched concrete slabs. Water collected in the concrete notch pulls upward into the insulation in the wall. Wicking renders the insulation useless, promotes leaks into the structure, and increases the chances of rust and corrosion. Steel building formed base trim eliminates wicking.
7. INCREASES SEALING: Notched concrete foundations leave room for drafts, insects, and rodents to enter the building envelope. RHINO's formed base trim seals tight, creating a barrier stopping cold air, creepy crawlers, and vermin in their tracks.
All RHINO Steel Buildings Include Formed Base Trim and Closure Strips
Many of our competitors do not offer metal building formed base trim. Others offer it only as an option, at additional cost. RHINO metal buildings include formed base trim and base angle— at no extra cost.
To further increase waterproofing, RHINO steel building kits also contain dense foam closure strips. Formed to match the shape of the steel wall panels, foam closer strips tightly seal the structure— supplying additional protection from insulation wicking. Inferior steel building systems fail to supply closure strips with formed base trim.
Formed base trim and foam closure strips are just two ways of the many ways RHINO provides the best prefabricated metal building value at the best possible price.
If you have any questions concerning metal building formed base trim or RHINO steel buildings, please call now. Free estimates are available.
Our hotline is 940.383.9566.