Why Would You Build with Anything Else?
A pre-engineered metal building, also known as a PEMB, saves you time, money, and hassles.  Is it any wonder that steel now frames over 66% of all new low-rise commercial and industrial projects?
So why should you use a PEMB for your next construction project?  The following fifteen reasons show why PEMBs are the clear winner among popular construction companies.
A PEMB Saves Time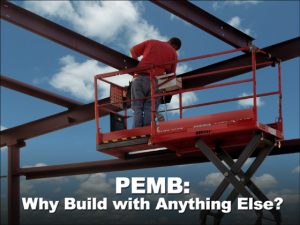 Look at the ways a pre-engineered metal building kit saves time:
#1:  Prefab metal buildings are manufactured specifically for your needs.
#2:  All a PEMB's pieces are prefabricated at the factory.  The kit arrives at the job site ready to assemble.  A PEMB erects fast, framing in about one-third less time than other building systems.
#3:  Steel never changes shape with differing humidity levels as lumber does.  Consequently, a PEMB does not deteriorate and warp, twist, creep, and sag like wood structures do over time.  You spend time using your building, not repairing your building.
A PEMB Saves Money
#4:  Time is money.  Since a PEMB erects in 33% less time, it significantly cuts construction labor costs.
#5:  Framing with a pre-engineered metal building kit is a simple systematic assembly, much like a giant erector set.  Therefore, many buyers erect the building themselves with a few friends, saving even more on PEMB construction expenses.
#6:  All the PEMB framing is prefabricated, reducing waste.  You only pay for what you actually use.  Sell any leftover metal to a recycler for scrap.
#7:  Most insurance companies offer significant discounts for a PEMB, because commercial-grade steel is so fire resistant.
#8:  RHINO's optional Pro-Value Insulation System slashes utility bills in half!
#9:  Inorganic steel never supports mold or attracts termites.  That eliminates the need for expensive mold remediation and strong chemical termiticide treatments.
#10:  Durable pre-engineered metal buildings keep their value and good looks for decades.
A PEMB Prevents Trouble Later
#11:  A virtually maintenance-free PEMB avoids constant repairs.
#12:  Wood buildings sag and shift over time.  A pre-engineered metal building goes up straight and true— and it stays that way year after year.
#13:  Finished in strong and attractive colored steel panels, PEMBs eliminate the need for repainting every few years.  Alternatively, finish the PEMB with brick, stone, glass, or other traditional building materials.
#14:  Expanding a PEMB is easy and economical.  Even interior remodeling is more convenient in a pre-engineered metal building.  There are no load-bearing walls to interfere with floor plan changes.
#15:  The strength of steel provides better protection from fire, lightning, winds, snows, and earthquakes than wood construction.
Consider a PEMB for your next project.  From backyard storage to a mega-warehouse, the best deal is always a RHINO steel building.
Contact us today to learn about popular construction options. Let one of our friendly pre-engineered metal building consultants assist you.  Call us at 1.940.383.9566.