An Additional 10 Benefits Steel Buildings Deliver
Our last blog listed ten ways metal buildings beat wood-framed construction, but that was just a few of the benefits of steel buildings. Pre-engineered steel buildings are also:
11. PREFABRICATED: All metal building components are cut, welded, drilled, painted, and marked at the nearest factory, not the job site. Steel framing arrives ready to sort and assemble.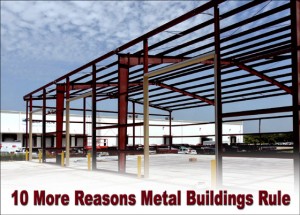 12. RECYCLABLE: Steel is by far the most recycled material on this planet. Coupled with is continuous strength and high-recycled content, steel rules as the greenest building material.
13. SAFER: The framing is the third most likely place for a structural fire to start in a wood built structure. Lumber not only ignites easily, but it also supplies a ready fuel to feed a structural fire.
Incombustible steel does not ignite, so it is never the point of ignition in a fire— nor does it feed a fire should one occur.
The strength of metal buildings also resists damage from earthquakes, high winds, heavy snows, and lightning far better than wood structures.
14. SPAN: Steel is able to extend farther— without interior structural supports— than any other building material. Consequently, metal buildings allow the largest expanse of uninterrupted space. Pre-engineered metal buildings (PEMBs) clear span as far as 300-feet.
15. SPEEDY: Lumber arrives at a construction site in bulk. It must be examined piece by piece, to cull out inferior pieces. The remaining lumber deemed acceptable must be measured and sawed to length— a time-consuming process.
Steel requires far fewer framing pieces than wood to construct a much stronger frame. Wood studs typically space 16-24 inches apart. Prefabricated metal buildings place primary framing columns 20-25 feet apart.
Less pieces means less time needed for framing. Typically, a pre-engineered steel building slashes 33%- 40% off the construction time of a building project.
16. STABLE: Wood is organic. It absorbs moisture and changes shape as humidity levels vary. Over time, this shape-shifting causes the lumber to warp, bow, twist, shrink, split, rot, and creep. Nails and staples begin to work out. Framing loosens. Corners are no longer straight. Floors creak. Overhead doorframes and rooflines sag. Doors and windows begin to stick. The structure becomes drafty.
Changing moisture levels never affect inorganic steel framing. PEMBs stay straight, strong, and air tight for decades longer than wood-framed buildings.
17. STRONG: Steel boasts the highest strength-to-weight ratio of all building materials. With a rigid, red-iron PEMB, fewer pieces created a stronger, more dependable structure than buildings framed with wood or light-gauge steel.
18. SUSTAINABLE: The lumber industry rightly claims that wood is a sustainable building material. If you need more lumber, you just plant more trees. And, admittedly, the wood industry has done an admirable job of replanting.
What they cannot control is the time involved in regrowing a forest.
It takes decades for trees to grow large enough to harvest lumber. In fact, the lumber industry now harvests younger and smaller (and therefore less stable) trees than it ever has before to meet demand.
Steel is the more logical, sustainable choice. Unlike other recycled products, steel retains all of its strength no matter how many times it is recycled. Today a mill produces one ton of recycled steel in less than an hour.
19. VERSATILE: From backyard storage to mega-warehouses, nothing beats the versatility of PEMBs.
Steel frames aircraft hangars, barns, churches, equestrian arenas, equipment shelters, manufacturing plants, office buildings, outdoor pavilions, restaurants, stables, storage buildings, vehicle dealerships, and a host of other business and personal-use structures.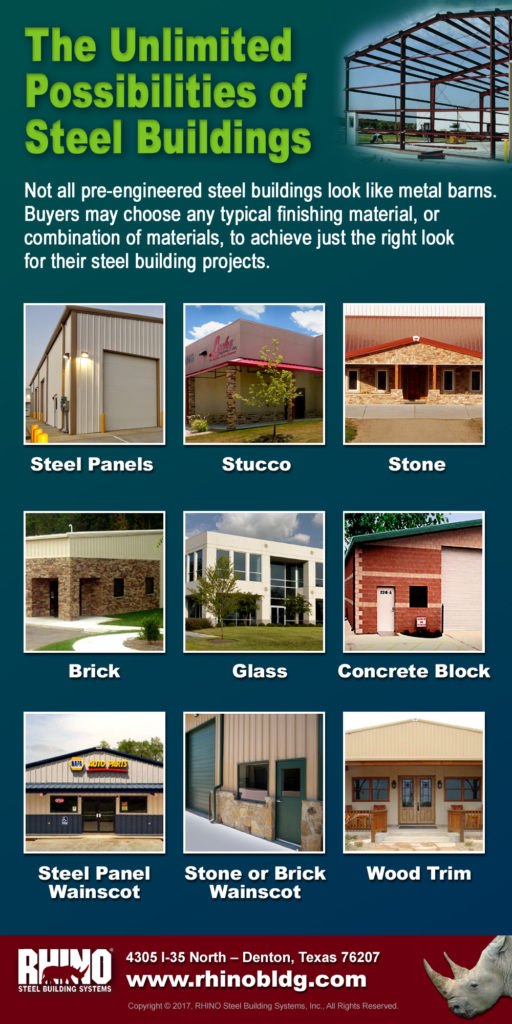 Steel buildings can be finished out with any exterior building material. Buyers add colorful steel panels and trim, or choose more traditional materials like blocks, brick, fiber-cement siding, glass, stone, stucco, tilt-up concrete, or even wood.
The possibilities are limitless with a steel building.
10. WORRY-FREE: Termite infestation haunts wood building owners. Even determined Formosan termites steer clear of steel.
The exterior of a steel building requires little maintenance— a simple washing once a year does the trick. And there is no need to paint a metal building every few years, as you must with wood buildings.
PEMBs: The Stronger, Safer, Smarter Way to Build
RHINO Steel Building Systems prides itself on its quality metal buildings and first-class customer service. The proof is in the number of repeat customers who return to RHINO repeatedly for all their low-rise building projects. In fact, repeat customers— or their referrals— generated all 30% of our sales in the past year.
A RHINO typically ships in only four to seven weeks, depending on the size and complexity of the building. We ship structures all over North America, including every state in the U.S., Canada, and Mexico.
Speak to a RHINO facilitator now by calling 940.383.9566. One of our friendly and knowledgeable metal building specialists will gladly answer all your questions and give you a fast, free quote on your upcoming project.