Cut Energy Bills in Half on Your Next Steel Building
Energy-efficient metal building insulation saves both natural resources and the owner's resources. With a quality insulation system, steel buildings are comfortable, environmentally responsible, and cost-efficient.
RHINO's Basic Metal Building Insulation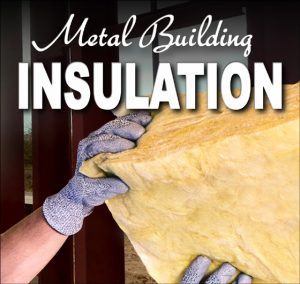 RHINO Steel Building Systems offers two insulation products.
The first option is basic fiberglass insulation batts from 3-inches thick (R-10) to 8-inches thick (R-25). This insulation comes with a reinforced backing, eliminating the need for the unsightly chicken-wire supports seen so often with cut-rate steel buildings.
RHINO's Pro-Value Insulation
For optimal energy savings, RHINO offers a second insulation option: the Pro-Value Insulation Package. This product provides superior performance and greater energy savings.
Pro-Value insulation packages are available in six-inch (R-19) to nine-and-a-half-inch (R-30) for walls and six-inch double layer (R-20) to twelve-inch double layer (R-40) for roofs. Because insulation is not compressed, the full R-value is realized for optimum energy savings. In addition, RHINO's system seals completely around the eave strut with standard closure strips and mastic tape.
The Pro-Value metal building insulation system includes four parts that work together to reap maximum energy savings:
Full Thickness of Fiberglass Insulation: Filling the purlin depth without compressing the insulation provides the best R-values.

Steel Retainer Straps:

Hold the fabric and insulation in place.
Vapor Barrier Fabric: Encapsulates the purlins and girts for a more professional, finished look. Eliminates condensation problems and the need for painting or other ceiling treatments. Protects against roof deterioration. Double extrusion welded seams preserve the vapor barrier integrity. 300% stronger than vinyl film facing offered by competitors. Washable. Available in white (our most popular choice) or attractive designer colors.
Thermal Break: An extra layer of insulation, breaking thermal transference effect and adding to the total R-value.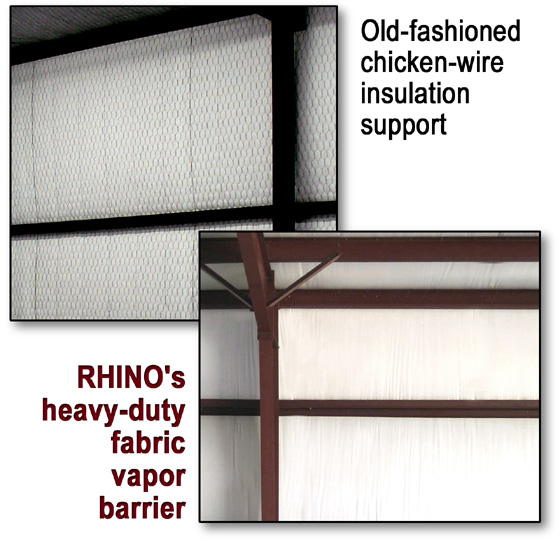 While fiberglass batt insulation is the most effective and economical steel building insulation, other insulation methods are compatible with steel framing. These alternative insulation products may be purchased locally. However, we find that most RHINO customers prefer to purchase their metal building insulation from RHINO and have it shipped with their building order.
Building Green, Saving Green
Steel is already the preferred green building material, based on its high-recycled content. Adding energy-saving metal building insulation increases the green appeal— and saves the owner some nice green cash on utility bills. RHINO customers report the Pro-Value Insulation System cuts their energy costs as much as 50%.
Be sure and ask about cool-coated steel exterior panel options available for hot climates. These reflective panels cut energy expenditure another 7% to 15%.
Call RHINO right now at 940.383.9566. Let one of our friendly metal building specialists answer any questions you have about RHINO or our insulation products.