Metal Buildings for Ohio: The Most Bang for Buckeye Budget
Over half the U.S. population lives within 500 miles of Columbus, Ohio!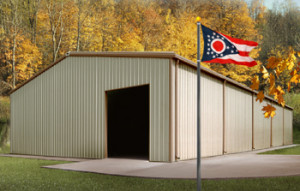 Ohio's mild, humid climate produces an excellent environment for crop growth. In fact, the state encompasses almost 74,000 farms. Indeed, one out of every seven people in Ohio works in agriculture.
Yet almost 80% of Ohioans live in urban areas.
However, both urban and rural dwellers in Ohio agree on the viability of prefabricated steel buildings in Ohio, for structures like these:
Airplane Hangars
Recreational Buildings
Prefabricated Steel Buildings
Metal Garages
Metal Storage Buildings
Indoor Horse Arenas and Stables
Metal Barns and other Agricultural Steel Buildings
Churches
Warehouses
RHINO Steel Buildings in Ohio for Farmers and Ranchers
Every agricultural enterprise needs strong, durable buildings to house their livestock, equipment, and product.  RHINO prefab  steel-framed structures deliver the most bang-for-the-buck to Buckeye farmers and ranchers.
Whether the need is for a steel barn, hay shed, equipment building, stables, livestock building, farm office, or an indoor riding arena, steel buildings in Ohio have a lot to offer farmers and ranchers in Ohio.
RHINO metal buildings are computer-designed for the most efficient use of steel. All our metal buildings in Ohio are quickly created to fit the requirements of the buyer and current local building codes.
After manufacturing to exacting standards at the closest factory, the completed steel package ships to your job site. The metal building parts arrive ready to assemble with steel bolts and self-drilling screws. The structure erects quickly, much like a giant erector set.
Urban Uses for Low-Rise Ohio Steel Buildings
The commercial and industrial applications for prefab steel buildings in Ohio are endless.
The exterior of the buildings can be finished with a steel building facade or any typical construction material, like glass, stone, brick, tilt-up concrete, or even wood, depending on the buyer's vision for the project.
RHINO steel buildings in Ohio also work well for residential buildings, such as:
Multi-car garages
Workshops
Storage buildings
Home offices
Hobby houses
Multi-purpose buildings
Since steel is the most recycled material available, using one of our steel Ohio garage kits, pole barn kits, or metal building kits is also an eco-friendly choice.
RHINO's Pro-Value insulation package makes the structure even more environmentally responsible, reducing heating and cooling bills by as much as 50%.
Explorer all the reasons a RHINO steel building system saves effort, hassles, time, and money for every low-rise building project.
Please call 940.383.9566 for more information and a free estimate for metal buildings in Ohio projects.