No other building material beats steel aircraft hangars. And no other metal building systems offer the advantages of RHINO steel airplane hangars.
Stronger Airplane Hangars Start with Steel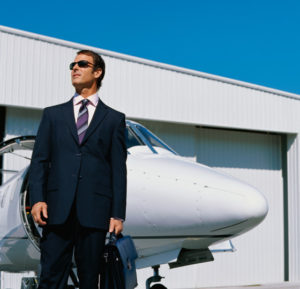 The incredible strength of steel makes it the ideal building material for airplane hangars. Only steel framing is able to span such long distances without interior load-bearing supports.
RHINO's standard metal airplane hangars can clear span up to 150' wide. In addition, clear spans of 200' or more are possible with a custom quote.
Our standard building heights reach up to 40'. However, even taller steel structures are available with a custom quote.
Steel's incredible strength also provides extra protection from high winds, fire, heavy snows, lightning, termites, earthquakes, and aging.
In fact, RHINO's commercial-grade steel framing is so strong and durable, it is guaranteed to meet or exceed all current local building codes for the lifetime of the structure!
Metal Airplane Hangar Options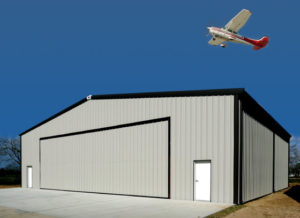 RHINO provides steel building hangar kits with openings to fit any size of aircraft, from a small single prop to jumbo jet.
We offer hangar door options of 45' or 60' wide. Choose bifold or overhead doors, with electric or hydraulic lifts. Sliding aircraft doors are also an option.
If you prefer, RHINO offers insulated hangar doors. If your location requires it, RHINO provides certified wind rated hangar doors, too.
If needed, RHINO also designs steel airplane hangars for mezzanine floors or overhead cranes.
Our strong and durable PBR (purling bearing rib) steel wall and roof panels come with a choice of attractive colors. RHINO's exterior panels also boast a 25-year guarantee.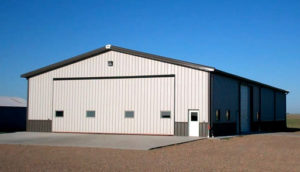 For hotter climates, consider adding reflective cool-coated panels for your metal aircraft hangar. And for greater year-round comfort, many customers add RHINO's Pro-Value Insulation Package to their steel aircraft hangars.
We can also provide any specialized metal aircraft support buildings you need to accompany your metal airplane hangars.
Whether you require corporate offices, multi-purpose facilities, maintenance buildings, shade structures, private jet terminals, or other aviation structures, RHINO has all your building needs covered.
RHINO Steel Building Hangar Kits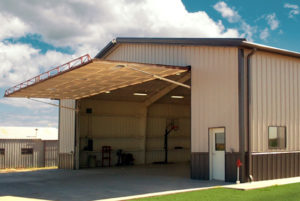 Using multiple shipping points across the U.S. allows for minimum freight charges. RHINO metal aircraft hangars and buildings deliver in as little as six to seven weeks from ordering.
In fact, some standard models can deliver in as little as four weeks.
All the framing arrives from the factory prefabricated. The kit erects simply at the job site. High-strength bolts and self-drilling screws connect the framing pieces.
RHINO steel hangar kits assemble quickly and easily, saving as much as one third on construction time.
More RHINO Hangar Advantages
RHINO's prefab aircraft hangars are striking and resilient. These sturdy structures hold their beauty and value decade after decade.
Moreover, RHINO steel buildings need virtually no maintenance.
In addition, a RHINO steel hangar is also the "green" way to build. That is because steel is the most recycled material in the world.
RHINO-Tough Hangars and Structures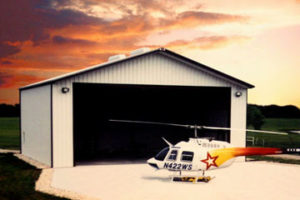 RHINO offers a premium building system at an affordable price. We are also committed to providing first-class service to every RHINO customer. Consequently, returning customers— and those they referred to RHINO— generated 30% of all our new orders this year.
We call this commitment to product and service excellence The RHINO Difference.
Discuss your airplane hangar and aviation building needs with a friendly RHINO steel building expert. Speak to one of our experienced steel framing specialists today at 940.383.9566.