When it comes to steel buildings in New York, RHINO Steel Building Systems is the ideal choice. RHINO steel is the best on the market — built strong and made to last for the lifetime of the structure.
New York's Finest Metal Buildings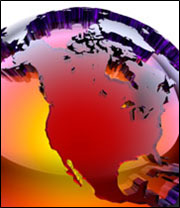 New York experiences all seasons, and RHINO's steel buildings thrive in every kind of climate.
New York steel buildings must be able to stand up to humidity, in summer and in winter. RHINO offers multiple solutions to help combat condensation caused by humidity.
One of the main ways to prevent moisture buildup is to keep air flowing with ventilation. RHINO has tons of options for doors, including overhead doors that can be opened to allow air circulation. We can also install vents in your building. Choose from 3' x 3' louvered endwall vents or 9' x 10' ridge roof vents, with optional bird screens, to decrease humidity and keep the air moving.
Insulation is another way to combat humidity in your New York steel building. It also protects against extreme heat and cold. Our Pro-Value Insulation Package helps decrease condensation, and it even cuts utility bills by as much as 50% — especially during the sweltering summer months.
RHINO's New York Steel Buildings
Our tough steel and customization options make RHINO the best option for steel buildings in New York — but it's our outstanding customer service that truly sets us apart from the rest. Our metal building specialists have years of expertise and can help you every step of the way. They work to make sure your New York steel building is perfect for you, down to the last detail. It's no surprise that 30% of our orders come from happy, repeat clients and referrals. Once you've experienced the RHINO Difference, you won't want to work with anyone else. We take great pride in our buildings and our customer relationships, and we work tirelessly to make sure your experience and your building are flawless.
Call us today at 940.383.9566 to get started on your New York steel building and experience the RHINO Difference!