STEEL BUILDINGS IN MISSOURI FOR TORNADOES AND EARTHQUAKES IN THE 'SHOW-ME' STATE
From cotton fields and cornfields, to aerospace and automobile industries, Missouri embraces the best of rural and urban lifestyles.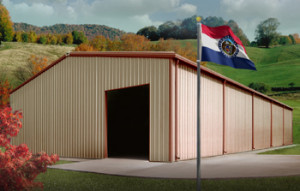 Unfortunately, as a part of the infamous Tornado Alley, Missouri has experienced some of the worst tornado disasters in U.S. history.
RHINO's prefabricated metal buildings in Missouri meet or exceed all current local building codes to make damage-resistant structures.
Earthquake-Resistant Metal Buildings in Missouri
Generally, people think of the West coast when they think of earthquakes. Surprisingly, the worst series of earthquakes in American history centered around New Madrid, Missouri in 1811 and 1812.
The U.S. Geological Survey estimates three of the New Madrid quakes would measure from 7.5 to 7.7 on the modern Richter scale. One quake was so strong, it was felt 1,000 miles away, awakening people as far away as New York, Washington, D.C., and Charleston, South Carolina. It reportedly rang church bells in Boston.
The New Madrid quakes caused waves on the Mississippi River so large that boats were capsized or swept inland.
Two hundred years later, a similar earthquake would be far more devastating, as the area is now heavily populated and urbanized.
RHINO prefabricated metal buildings in Missouri perform well under seismic stresses.
These earthquake-resistant structures also provide extra protection from mold, termites, fire, heavy snows, lightning, and fire.
A RHINO Metal Building in Missouri for Every Purpose
Versatile RHINO, steel metal buildings in Missouri meet the needs for all agricultural, aviation, commercial, and retail enterprises. In addition, steel manufacturing and warehousing projects also serve as earthquake resistant structures.
Homeowners also find the ease of assembly, superior strength, affordability, design flexibility, and longevity of a RHINO structure appealing. Consequently, many people use RHINO metal buildings in Missouri for multi-car garages, backyard workshops, home offices, storage buildings, hobby houses, or other personal structures.
Call RHINO Today
Missourians are famous for their skepticism. RHINO welcomes the scrutiny and questions of those from the 'Show Me' state.
We are convinced you will find our Missouri metal buildings to be the perfect structures for all your projects.
Call 940.383.9566 to speak to a metal building specialist on the RHINO team.