RHINO STEEL BUILDING KITS FOR CANADA'S CHALLENGING CLIMATE
Canadians require durable buildings that can take on the sometimes punishing climate. RHINO steel buildings in Canada battle the harshest weather problems.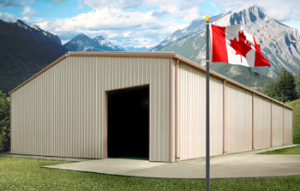 The U.S. and Canada share the longest border between any two countries in the world. Eighty percent of all Canadians live less than 160.9 kilometers (100 miles) from the U.S. border. Our two nations enjoy a history of mutual cooperation and profitable exporting and importing, including building supplies.
RHINO steel buildings in Canada ship from multiple shipping points across the U.S. Our easy-to-assemble steel building kits to Canada export from the closest factory to the location. Delivery is fast and economical which includes:
Pole Barns in Canada
Steel Warehouses for Canada
Steel Industrial Buildings in Canada
Steel Church Buildings for Canadian
Canada Steel Aircraft Hangars
Recreational Buildings for Canada
Prefabricated Steel Buildings in Canada
Metal Garages in Canada
Canada Metal Storage Buildings
Canadian Indoor Horse Arenas
Steel Commercial Buildings in Canada
Agricultural Steel Buildings for Canadian
Metal Barns in Canada
RHINO Steel Buildings in Canada: Strong Protection For Weather Extremes
Canada's temperature extremes range from a record low of -62.7° Celsius (-81° Fahrenheit) to a record high of 45°C. (113° F.).
Parts of the Canadian Rocky Mountains can receive as much as 609.6 centimeters (240 inches) of snowfall a year. RHINO prefabricated steel building kits for Canada are designed and manufactured meet or exceed all local steel building codes, including all snow loads.
Canada's Chinook Windstorms vs. RHINO Prefab Metal Buildings in Canada
Warm Chinook winds from the Pacific Ocean scream across Canada 30 to 35 times a year. These howling winds sometimes reach hurricane-force strength. RHINO steel buildings in Canada are manufactured to specifically meet local wind loads— or even greater if the customer prefers. Highly wind-resistant overhead doors in all sizes are also available from RHINO for our Canadian metal buildings.
Chinook winds can rapidly raise temperatures from -20°C. (-4°F.) to 20°C. (68°F.) in a matter of hours. Condensation problems often arise in an ordinary metal building during such radical temperature changes. However, RHINO steel building kits include many waterproofing features to defeat leakage problems before they start.
RHINO's Pro-Value Insulation options provide even more protection from fluctuating temperatures. In climate-controlled structures, optional Pro-Value insulation features can also slash heating or cooling consumption in half.
RHINO Metal Buildings in Canada for Every Use
Large-scale farming dominates most of the Canadian agribusiness today. Barns and equipment shelters require large, unencumbered area to maneuver huge tractors, combines, and other farm machines with ease. Clear span RHINO steel building kits are available to fit all farming and ranching needs, with huge overhead doors to accommodate any equipment.
RHINO prefab building kits provide unsurpassed benefits for all Canadian building projects, including:
Steel buildings for agricultural
Steel aircraft hangars and other aviation buildings
Low-rise commercial metal buildings
Steel buildings for industry and manufacturing
Steel buildings for warehousing
Auxiliary metal buildings for residential garages
Private metal storage buildings
And other steel-framed structures
Build it stronger. Build it safer. Build it smarter. Built it with RHINO.
Call international number at 011.940.383.9566 for full details and a free estimate on Canadian metal buildings.