If you're looking to build a metal building in Texas, RHINO Steel Building Systems is the way to go. RHINO's Texas steel buildings are strong and made to last — no matter what the unpredictable Texas weather throws at them!
The Best for Texas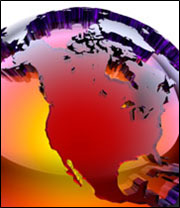 Texas is known for experiencing a huge range of weather conditions. Luckily, RHINO steel buildings can withstand all kinds of extreme weather.
Texas metal buildings must be able to survive extreme heat. Texas summers see temperatures over 100 degrees Fahrenheit, often for many days in a row. RHINO's buildings provide premier insulation systems that can help combat the stifling temperatures. Thermal breaks and extra-strength vapor barriers increase energy efficiency, and RHINO's Pro-Value Insulation Package provides heat protection and can cut summer energy bills in half. Considering the relentlessness of the Texas summer heat, RHINO's insulation can gain you massive savings on your metal building for years to come.
Tornadoes are another extreme weather scenario that Texas must face. Much of Texas is considered part of "Tornado Alley," the mid-section of the United States where tornadoes are most frequent. RHINO's buildings feature wind-resistance that make them the perfect metal buildings in Texas. Steel has the highest strength-to-weight ratio of any building material, which means it is the best building option when dealing with destructive winds from tornadoes. Furthermore, steel Texas barndominiums can be customized with tornadoes in mind with features like a lower profile, wind-rated doors, minimal openings, and brick exteriors (the most impact-resistant exterior option).
Despite Texas' extreme heat, it also experiences ice storms. RHINO's slick roofing helps shed ice and sleet, and shunning gutters can be added to prevent ice dams from forming. And just like RHINO's insulation packages can help with heat, the insulation also keeps the building warmer, allowing heat to rise to the roof to melt ice. Clearly, RHINO is the ideal choice for metal buildings in Texas — there's nothing RHINO can't handle!
Call us today at 940.383.9566 to speak with one of our specialists about building the perfect metal building for your needs, and experience the RHINO Difference!