How Tall Can a Steel Building Be?
Before covering steel building height specifics, we need to cover a few basics.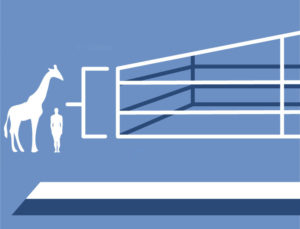 First, every RHINO pre-engineered metal building is designed specifically for that particular order.
There are no "standard" metal building sizes. Every RHINO order is produced to the customer's exact requirements. It is designed to meet or exceed the local building codes for the customer's location.
Secondly, prefab metal buildings do not have floor plans like houses.
RHINO steel structural framing is self-supporting. It does not need load-bearing walls at specific locations to prop up the building. Therefore, the customer enjoys complete floor plan freedom. They can design their own floor plan— and change it as needed— without worrying about compromising the structural strength.
How to Measure Steel Building Height

Now let's clarify how prefab metal buildings measure height.
Generally, the overall height of a structure is measured to the peak of the building— the highest roof point. The higher the roof's pitch, the taller the peak reaches.
However, the "eave height" designates a pre-engineered steel building's height. Eave height measures the building height from the top of the foundation to the point where the sidewall joins the roof.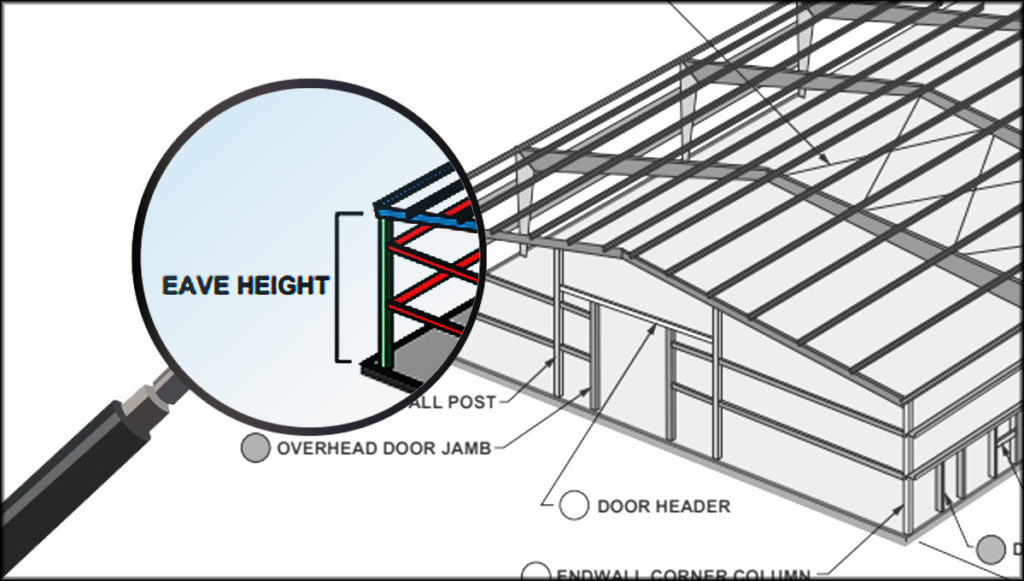 Therefore, if you order steel building sizes of 40 x 60 x 14, the sidewall columns will be 14-foot tall.
Be advised that some communities have maximum height restrictions for structures. Check your local zoning regulations before you place your steel building order.
Consequently, you need to determine the overall building height at the peak when choosing your steel building sizes to be sure your structure meets the criteria. (A RHINO metal building specialist can help you calculate the peak height.)
So, Just How Tall Can a Steel Building Be?
The short answer to how tall can a steel building be is however tall you need it to be. There is no limit on eave heights with a RHINO steel building system.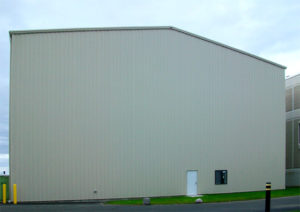 The majority of our orders at RHINO fall into the 12-foot to 20-foot eave height range. Nonetheless, we have shipped many orders with eave heights of 60-feet, 80-feet, and even 100-feet, too.
Our standard quotes cover steel building heights up to a 40-foot eave height.
However, we can supply quotes for any height over 40-feet, too, with a custom quote.
Determining Steel Building Sizes by Door Heights
Keep in mind when choosing metal building sizes that the eave height should be at least two feet higher than your tallest door opening.
For example, if you need a 16-foot high door opening for your RV, then your building height needs to be a minimum of 18-feet-tall at the eave.
Conclusion
Any low-rise steel building height is possible with RHINO Steel Building Systems.
RHINO Metal Building Sizes: Based on Your Needs
To "steel" a phrase from Elizabeth Barrett Browning: I love thee to the depth and breadth and height my steel can reach… and RHINO steel buildings can reach whatever heights you require.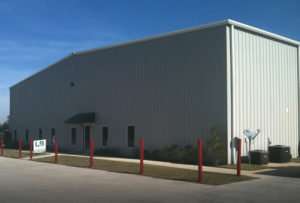 See for yourself why so many of our customers love their RHINO buildings. It is no wonder they return to RHINO again and again for all their building projects.
In addition, they brag to friends and associates about their RHINO structures, referring them to us, too. Consequently, we ship tall warehouses, soaring church buildings, and towering airplane hangars all over North America.
Find out what The RHINO Difference can mean for your next building project, whether big or small.
Call RHINO right now at 940.383.9566.