The Many Ways Steel Is Used Today- Part 3
PART 1 of this series on steel in construction and in other products covered steel's uses in agriculture, food packaging, infrastructure, and transportation. PART 2 focused on steel's many uses in our homes, the energy industry, medicine, and the military.
Of course, as the owner of a pre-engineered steel building company, my livelihood comes from the use of steel in construction.
Why Steel Dominates the Construction Market
Buildings with skeletons of steel rise from one story structures to multi-story high-rises and towering city skyscrapers.
Most non-residential construction depends on large steel cranes, heavy-duty steel earth-moving equipment, steel-reinforced concrete, steel framing, and metal roofing.
Aircraft hangars, commercial structures, hospitals, industrial buildings, manufacturing plants, office buildings, restaurants, retail stores, sporting arenas, stations, self-storage units, and warehouses count on steel framing.
In fact, 65% of today's new low-rise commercial building projects employ steel framing. In the industrial market, steel garners an astounding 95% of all new construction.
Even the bolts, nails, and screws used in construction are steel.
Durable steel roofing now tops most new commercial and industrial structures. Metal roofing is quickly becoming popular in the residential market as well.
The Benefits of Metal Buildings
Why are the majority of new commercial and industrial structures now framed with steel? The following gives you a brief list of the advantages of pre-engineered steel in construction:
STRENGTH: Steel's high strength-to-weight ratio provides greater design flexibility. Steel buildings clear span farther than other building materials. A pre-engineered metal building requires far fewer framing pieces, reducing the weight on the foundation.
DESIGN FREEDOM: Not all steel buildings look like barns. Many disguise their steel skeletons with brick, stone, glass, tilt-up concrete, wood, or other traditional exterior.
DURABILITY: Steel buildings resist damage from wind, rain, snow, earthquakes, mold, termites, vermin, lightning, and fire. A premium steel building should last decades longer than other building systems— and retain its good looks and value longer, too.
Pre-engineered steel framing starts out straight and stays straight and plumb for the life of the structure. Steel does not bow, creep, crack, or rot like wood framing.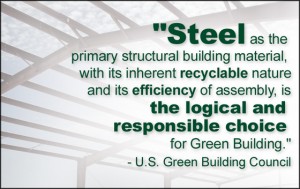 ECO-FRIENDLY: No other building material comes close to the recycling rate of steel. The U.S. Green Building Council says it best: "Steel as the primary structural building material, with its inherent recyclable nature and its efficiency of assembly, is the logical and responsible choice for Green Building."
No matter how many times steel recycles, it never loses any of its strength. Other building materials cannot make that claim.
ECONOMICAL: Regardless of the advantages of steel in construction, the bottom-line still rules. How much will it cost? Steel's popularity ultimately attests to its affordability. Pre-engineered steel buildings save money on material purchase, erection costs, and operating expenses.
Prefabricated metal buildings create strong structures with a minimum of waste. With steel, you do not pay for building materials you do not use.
Pre-engineered steel building components arrive already cut-to-length, welded into shape, drilled, painted, clearly marked, and ready-to-assemble. A quality-made steel building reduces construction time by 33%.
As a fire-resistant commercial construction material, steel earns big premium discounts with most insurance companies. Simple to care for, metal buildings require little maintenance. A well-insulated steel building cuts heating and cooling costs by 50%.
The Benefits of RHINO Steel Buildings
RHINO steel buildings guarantee that the rigid steel framing will meet or exceed all current local building codes for the lifetime of the structure! "The RHINO Difference" also includes these premium features:
100% commercial-grade, rigid-steel framing
Prefabricated components for simple bolt-together assembly
High-strength bolts and nuts for strong framing connections
Pre-welded clips for easy attachment of girts and purlins
Framing for a door opening up to 30' wide
Steel building trim and exterior in a choice of colors
Formed base trim and die-formed ridge caps for superior waterproofing
Fast delivery in 4-7 weeks from order (depending on the complexity of the design)
Cover trim for all framed openings
An anchor-bolt plan
Bill of Lading, three sets of Engineer-Stamped Plans with Letters of Certification, a 49-page Installation Manual and a Construction DVD
RHINO ships made-to-order steel buildings all across North America
For more information on RHINO's premium pre-engineered steel in construction projects, call today: 940.383.9566. Speak with an experienced and knowledgeable RHINO metal building specialist.
The best deal in building is steel. The best deal in steel is RHINO.