RHINO's prefabricated metal church buildings offer amazing customizations, while keeping building and construction costs affordable.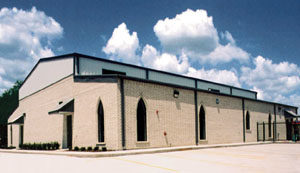 Churches and congregations operate under strict budgets and have different financial needs than the average client. Yet every congregation is distinctive. That is why RHINO offers metal houses of worship designed to fit your church's particular needs.
RHINO steel church buildings offer exceptional features to protect your investment, so you spend your tithes on growing your congregation, rather than on constant facility maintenance and repair.
Design your RHINO metal church building to include classrooms, a youth center, administrative offices, a counseling center, conference rooms, choir and music rooms, and kitchens, as well as meeting rooms or fellowship halls for church banquets and social gatherings or large wedding receptions.
The RHINO advantage in Prefab Church Buildings
RHINO metal church buildings are built strong to last long.
Because of the superior strength of the rigid-steel frame, our structures can clear span up to 150' on a standard order, allowing your sanctuary to be completely open and unobstructed by support columns.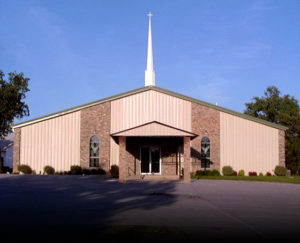 With our metal church buildings, we can provide spans of 200' or wider with a custom quote. Widths up to 480' are possible with a support column in the center.
And building height is no problem with a RHINO steel system. Your prefab church buildings can enjoy towering 40' ceilings on a standard design, or even higher with a custom quote.
Any length is possible. As your congregation grows, so can your building by simply adding more steel framing at either end of the structure.
More Reasons to CHOOSE RHINO Metal CHURCH BUILDINGS
There are so many reasons congregations choose RHINO church building kits, including:
Experience:RHINO has delivered thousands of steel buildings all across North America. With years of experience, we have extensive knowledge about designing and constructing steel church buildings.
Quality:RHINO prefab church buildings offer premium commercial-grade materials and other exceptional benefits not included with other systems. Our heavy-gauge steel roof and metal building panels, for example, provide greater strength by overlapping the panels more fully, where other building systems do not.
Expanded Standard Features: Our standard church building kits also include additional features, like die-formed ridge caps, formed base trim, closure strips, and matching cover trim for all door and window openings. Many other steel building companies do not include these value-added features.
Value:RHINO steel church buildings assemble with prefabricated steel components, using high-strength bolts and self-drilling screws, and go together quickly and easily. Our prefab church buildings are durable and beautiful, retaining their value for decades of service with virtually no maintenance.
Fast Construction:All RHINO metal church buildings erect in a fraction of the time it takes to construct using other building systems. The parishioners themselves have erected many of our church building kits, using our easy-to-follow instructions.
Energy Efficiency:With the optional upgrade Pro-Value Insulation Package, your church building can also be extremely energy-efficient, saving your congregation thousands of dollars over the lifetime of the structure.
Additional Options:Although our standard buildings are available with your choice of 1:12 to 4:12 roof pitches, higher pitches are available with a custom quote for a more dramatic sanctuary ceilings.
Lifetime Framing Guarantee:Our commercial-grade steel framing is guaranteed to meet or exceed all current local building codes for the lifetime of the church building.
RHINO's commitment TO Quality and SERVICE
RHINO's mission has always been to offer the finest metal building at the most affordable price—while providing exceptional service before, during, and after the sale. This dedication extends to our prefab church buildings as well.
Our commitment to quality has earned RHINO an A+ rating with the Better Business Bureau.
In addition, over 30% of our new orders in the past twelve months have come from returning customers or referrals from satisfied RHINO building customers. We believe this speaks volumes about our products and service.
Call our experienced steel framing specialists now to discuss steel church buildings. Learn what RHINO can do for your next building project by calling 940.383.9566 today.