Bizarre Weather Dominated the Past Year
At RHINO Steel Buildings, we look back at 2015 with both joy and shock. It has been a year of startling contrasts.
As I write this, snow is falling here in northern Texas. Three hours ago, it was sleeting. Thirty-six hours ago, tornadoes ripped through Texas and flooding rains closed many highways as a blizzard screamed across the Texas panhandle. Sixty hours ago, the day was sunny and bright, with temperatures nearing 80°.

How do you wrap your mind around such a hodge-podge of rapidly changing weather?
2015: Wild Weather Dominates the News
This is just the last in a series of bizarre weather patterns plaguing the U.S. in 2015.
Thunderstorms, lightning, and wildfires caused havoc. Record-breaking temperatures— both highs and lows— stunned those held hostage by thermometers. Violent tornadoes, high winds, and freakish hail storms killed, maimed, and destroyed property. Exorbitant rainfall on previously drought-ravaged areas brought momentary relief— until the deluge turned into flooding.
RHINO Steel Buildings: Sales Soar in 2015
While RHINO celebrated another year of record-breaking steel building sales, we cannot help but mourn with those who lives and property have suffered from a devastating year of wild weather extremes.
This unprecedented year of weather madness emphasizes the need for stronger, safer, smarter buildings. We believe pre-engineered metal structures, like RHINO steel buildings, best serve that need.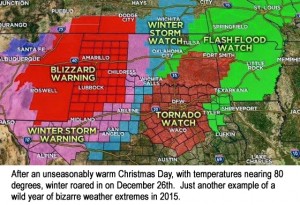 If you are planning to build— or rebuild— in the coming year, please let our experienced metal building specialists show you the many ways RHINO steel buildings meet your building requirements. We will happily answer all your questions— as well as give you a fast, accurate quote for your building project.
Call RHINO Steel Buildings now at 940.383.9566. If you have any upcoming commercial or industrial building projects for 2016, we would be happy to give you a free estimate.
May you and your family enjoy a safe, happy, prosperous year in 2016!