The Advantages of Steel Buildings in Big Sky Country
Metal buildings in Montana meet all the varied needs of Big Sky residents. The durability and versatility of pre-engineered steel buildings make them the perfect answer for residential outbuildings or commercial and industrial structures.
Incredible Strength of Steel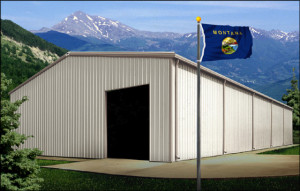 As a former resident of Billings, I know the incredible variations in climate and topography across Big Sky create unique challenges for steel buildings in Montana.
High winds across the plains and heavy snows in the mountains demand extra strong structures like our Montana pole barn kits.
Steel is the perfect building material for Montana. Steel boasts the strongest weight-to-strength ratio of any building material. RHINO steel buildings offer built-in protection from high winds and heavy snows. Steel buildings are also highly resistant to damage from the earthquakes, lightning, fire, mold, and termites that sometimes plague the state.
Pre-engineered Metal Buildings in Montana
Pre-engineered steel buildings are so versatile, they can be adapted to any application.
Need a new strip mall, big-box store, or office building in Billings? Is your congregation planning a new church building in Missoula? Perhaps your next investment is a new restaurant in Great Falls. Or maybe your ranch near Butte could use a bigger barn, stable, or a new indoor riding arena.
Whether you are planning a self-storage facility in Bozeman, a manufacturing plant in Helena, a bowling alley in Havre, or an auto parts store in Kalispell, steel is your best building choice.
Montana steel buildings also serve well for personal use structures. Wouldn't you love extra storage space, a larger garage, a workshop, a man cave, a mountain cabin, or a private home office? If so, build it with steel.
Hooked on RHINO Steel Buildings
RHINO steel buildings are green structures, too.
Steel is the most recycled material on earth. RHINO's optional Pro-Value Insulation packages make your structures energy-efficient and cozy, slashing utility bills in half.
Because of the superior strength of steel, wide, unobstructed interior spaces are possible. Enjoy complete design freedom with space unobstructed by interior columns. Build a clear span structure with steel as a warehouse, an equipment storage building, a pole barn, a horseback riding arena, a recreational center, an auditorium, a car dealership, or an aircraft hangar.
RHINO's Montana pole barn kits are:
• Affordable
• Durable and long-lasting
• Quick and easy to erect, with bolts and screws.
• Virtually maintenance free
Use strong, durable, colorful steel exterior panels to finish your RHINO steel structure. Our structures can also be finished in brick, stone, glass, block, tilt-up concrete, or any other traditional building material.
RHINO metal buildings in Montana offer the best deal for any low-rise building project. Our steel buildings in Montana meet or exceed all local building codes.
Give us a call today at 940.383.9566. We can provide you with a no-obligation quote on your Montana pole barn kit or other dream project.
Let our experienced steel building specialists show you The RHINO Difference in Montana steel buildings. You will find out why 39.1% of our business in the past year has been from repeat customers— or those referred to us by RHINO building buyers.