Building to Beat Nature's Savage Fury with Steel
When a monster storm like Hurricane Sandy slams into the coast, the farsighted rejoice that they chose to construct metal buildings in New Jersey. They know that steel buildings withstand Mother Nature's tantrums better than other structures.
When Sandy Pounded New Jersey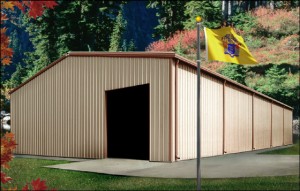 When "Frankenstorm" Hurricane Sandy crashed into the U.S. on October 29, 2012, it left darkness and devastation in its wake across seventeen states, including New Jersey.
An astonishing 820-miles-wide, Sandy meted out punishing amounts of howling winds, drenching rains, and blizzard conditions across the northeastern U.S., disrupting electrical service for days on end.
Sandy pummeled Belmar and several other coastal towns in the state. The storm forced many Jersey towns to evacuate. Floods completely cut off parts of the state from the Parkway and Turnpike. Sandy also disabled the NJ Transit system, putting trans-state subways out of commission.
Hurricane Sandy cost New Jersey over $1 billion in damages. The state's residents banded together to help speed recovery in an activist movement known as "Restore the Shore."
Hurricane Sandy wasn't the only weather trial for New Jersey. Garden state residents are no stranger to severe weather.
During winter and early spring, nor'easters sweep across the area causing biting blizzards and dumping heavy snow. Precipitation falls 30% of the year in New Jersey. Bright sunshine blesses only 29% of Jersey days annually.
The hot, humid summers in the state bring additional problems. Subterranean termites thrive in the moisture-laden atmosphere, wreaking havoc with wood-framed structures. Mold also flourishes in the heavy humidity.
Metal buildings and prefab homes in New Jersey meet the challenges inflicted by punishing winds, moisture-laden humidity, dangerous lightning, teeth-rattling earthquakes, heavy rains, piles of snow, and hot summers. Contact RHINO to learn about our options for prefab homes in New Jersey.
The RHINO Difference
Lee Ramsey, president of Links Construction LLC, has been a commercial builder for seventeen years. Although the company builds all types of construction, Ramsey says he finds the RHINO metal building system the most versatile for his company's low-rise building projects.
Ramsey declares the quotes he received from other metal building sources were often "sketchy." They did not thoroughly check the details and local loads, nor ask for complete information. Consequently, the quotes often turned out to be incorrect. "It isn't professional," says Ramsey.
From the beginning, Ramsey says the professionalism of the RHINO staff impressed him. "They always follow through with what they say they will do," says Ramsey. "Once I started using RHINO, I stayed with them. Their quotes are expertly done and thorough, so I can depend on them."
Ramsey says he usually has several projects in the bidding process with RHINO.
"I can count on RHINO to make it happen. It's a very smooth process from start to finish," Ramsey says.
RHINO Steel Buildings in New Jersey
RHINO ships premium quality pre-engineered steel buildings across North America. Each project delivers from the nearest shipping point to keep shipping costs low.
Our steel structures meet or exceed all current local building codes for the lifetime of the structure— guaranteed.
Keep in mind that steel buildings in New Jersey don't have to look like steel barns. Buyers may finish RHINO buildings in any exterior building material desires. Cover the structure in colorful high-strength steel panels, brick, stone, stucco, tilt-up concrete, of any other standard exterior treatment.
Construct RHINO metal buildings in New Jersey for aircraft hangars, barns, churches, commercial buildings, equestrian riding arenas, garages, hobby shops, manufacturing facilities, offices, pavilions, recreational structures, restaurants, stables, storage, stores, warehouses, workshops, or as machine, mechanic, or welding shops.
For more information about constructing your own affordable RHINO metal building in New Jersey, please call RHINO at 940.383.9566.
Our highly skilled steel buildings specialists help you every step of the way selecting the perfect structure for your project. They are here to assist in refining your building design, selecting your options, and scheduling delivery.
Don't delay. Call RHINO today for more information and a free estimate on your NJ steel buildings.