The Advantages Steel Buildings Bring to the Gem State
Pre-engineered metal buildings in Idaho are the most economical, durable, and versatile buildings for every project.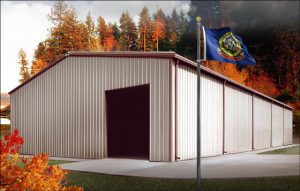 Idaho's divergent landscapes make it an especially appealing locale.  Residents and visitors to the state can enjoy:
Soaring mountain ranges with great ski areas for winter sports enthusiasts
Fertile valleys, prairies, and plains dotted with lush farms and busy ranches
Impressive canyons and gorges, rushing whitewater rivers, and magnificent waterfalls
Bustling cities, boasting a wide array of industries and commercial enterprises
Lush forests, covering almost 40% of the state
Over two million acres of unspoiled and protected wilderness area
Only one type of structure best suits such a rich, varied state: pre-engineered steel buildings.
Metal Buildings in Idaho Make Perfect Sense
The advantages RHINO steel buildings offer for construction projects in Idaho include:
An extremely cost-effective building system
Simple, systematic, bolt-together steel framing
Commercial-grade, corrosion-resistant rigid steel framing
Plans stamped by an engineer licensed for Idaho
Unobstructed, clear span designs
Choice of customizing options like gutters, skylights, doors, pipe boots, and more
An optional Pro-Value Insulation Package, which reduces energy expenditure by 50%
Fast shipping from the nearest factory to the job site in Idaho, reducing shipping costs
Prefabricated building kit with all parts cut to length, welded into shape, drilled as needed, and clearly marked, which cuts construction time by 33%
Every framing piece manufactured to meet strict industry tolerances
Easy-to-follow assembly instructions and a DVD
Pre-welded clipsto eliminate field welding
Components that stay straight and true for the lifetime of the structure
High-strength, rust-resistant connectors
Built-in resistance to damage from high-winds, earthquakes, fire, lightning, heavy snows, mold, and even termites
Substantial insurance discounts
Virtually no maintenance costs
The Many Uses for Steel Buildings in Idaho
 Any building project can be built stronger, faster, and more affordably with steel, including:
Agricultural: Farm and ranch buildings, like barns, hay sheds, milking houses, and livestock covers
Aircraft: Hangars, shade shelters, and support buildings
Automotive: Repair, tire, or welding shops
Churches: Sanctuaries, administrative offices, classrooms, bus garages and shelters, gymnasiums and other support buildings
Commercial: Office buildings, big-box stores, retail operations, restaurants, strip-malls, and more
Equestrian: Indoor or open air horseback riding arenas and stables
Garages: Multi-vehicle, multi-purpose, and RV garages
Industrial: Warehouses, manufacturing plants, depots, industrial storage and more
Recreational: Gymnasiums, picnic pavilions, indoor sports centers
Storage: Self-storage facilities, mini warehouses, climate-controlled storage units
Vehicle Dealerships: Sales showrooms and repair facilities
Workshops: Personal storage buildings, workshops, man-caves, and hobby shops
Get hooked on RHINO
RHINO metal buildings in Idaho offer the best deal in low-rise construction.  Our steel buildings guarantee the steel framing package will meet or exceed all local Idaho building codes for the lifetime of the structure.
Let our steel building specialists show you The RHINO Difference in metal buildings in Idaho.  Find out why repeat customers and referrals made up over 30% of our business in the past year.  Call RHINO now at 940.383.9566 to discuss our Idaho pole barn kits and prefab steel buildings.