An Energy Audit: The First Step in Reducing Energy Waste in Your Church
Being excellent stewards of church funds includes wisely managing church energy costs.
Buildings— including religious facilities— account for 73% of all electricity used in the U.S. Experts believe buildings squander 30% to 50% of the energy consumed.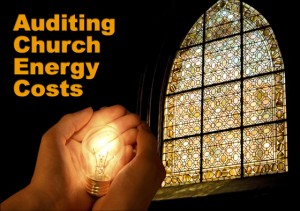 Frankly, such waste is sinful.
The Bible admonishes believers to "be diligent to know the state your flocks." You cannot successfully manage your church energy costs until you know current usage. You need an energy audit.
Auditing Church Energy Costs the Easy Way
The EPA (Environmental Protection Agency) offers a free ENERGY STAR® Portfolio Manager® to measure and track energy and water consumption. This easy-to-use online tool even estimates a building's greenhouse emissions.
Inputting current energy usage from the last year's utility bills provides an eye-opening look at actual spending. It also creates a benchmark. As your congregation implements new ways to slash waste, the Portfolio Manager® tracks effectiveness.
Seeing measurable results also motivates.
Portfolio Manager® scores your church building against similar worship facilities nationwide. The structure compares facilities based on gross floor area. Evaluations are available for churches with seating from 25 to 4,000.
Specific data enables your congregation to make wiser decisions. Weighing initial building upgrade costs against potential energy savings becomes clearer with energy audit information.
Energy Efficiency Starts with the Structure
Are you planning a new worship center or support structure? Consider starting with an energy-efficient pre-engineered steel building design.
RHINO supplies strong, durable, energy-efficient steel churches and auxiliary buildings. The Pro-Value Insulation System typically slices energy usage in half. We also offer cost-cutting reflective cool roofing for additional energy savings.
Discuss your church building project with a RHINO steel building specialists today. Learn more about green advantages of recycled steel church buildings from RHINO. Call 940.383.9566 now for a free quote on a new eco-friendly steel church building.