Six Tips for Preventing Costly Roof Damage
When it comes to metal roof maintenance, an ounce of prevention is worth far more than the pounding headache— and expensive repairs— caused by ignoring a roof. We've compiled six roof maintenance tips for you to follow.
Stopping Leaks Before They Start
The roof is generally the largest— and most vulnerable surface of any structure. The roof covers and protects the home or building from the elements.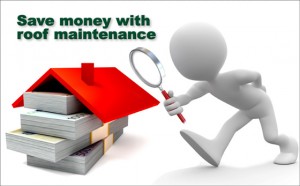 Metal roof maintenance is often overlooked— until the leaking roof causes serious problems. Preventing problems before they occur protects the structure, protects the pocketbook, and extends the life of the roof. Procrastination is not an option, if you want to maintain the integrity of your structure.
The following roof repair tips help avoid costly structural repairs resulting from roof damage are examples of good metal roof maintenance practices.
TIP # 1: Schedule roof inspections. There are three times each year you should inspect a roof for damage: in the Spring, in the Fall, and after any intense storm. Schedule bi-annual routine roof inspections on your calendar. Also scrutinize the roof carefully after storms with large hail, high winds, or exceptionally heavy rain or snow.
TIP #2: Examine the roof. If you are uncomfortable with ladders and heights, use a pair of good binoculars to look the roof over from the ground.
If it isn't possible to get a clear view of the roof with binoculars, consider paying a professional roofer to conduct an inspection.
TIP #3: Check the roof surface thoroughly. Look carefully for any of the following:
• Biological growths like algae, lichen, moss, mildew, or fungus on wood roofs
• Broken or cracked places on slate or tile roofs
• Collections of dirt, debris, or leaves
• Corrosion or rust on metal roofing panels
• Cracked sealant around vents, flashing, and ductwork
• Curling or bending of asphalt shingles
• Damaged or missing vents
• Evidence of leaks around vents, chimneys, or skylights
• Granular loss on asphalt roofing
• Holes or punctures in the roof
• Wobbly antennas and satellite dishes mounted on the roof
• Loose metalwork and flashings
• Missing or damaged shingles or tiles
• Nail pop-outs on wood roofs, vents, or other metalwork
• Signs of rot on wooden shingles
• Standing or ponding water
• Warped or buckled wood shingles
• Worn or cracked boots around vents
TIP #4: Check the gutters and downspouts. Look for sandy-looking granules collected from shedding asphalt shingles. Keep gutters free of debris to avoid destructive ice dams and overflowing.
TIP #5: Look for water stains. Check the interior ceiling and walls for any signs of leakage. On slanted roofs, water runs downhill. Therefore, look above the area of the stain for the source of the leak.
Even if you see no signs of a leak, it does not mean the roof is not damaged. The goal is to correct roof problems before they breach the interior.
TIP #6: Fix the problem areas immediately. Sweet debris and dirt from the roof. Pound down loose nails in wood and asphalt shingle roofs. Treat mold and moss. Caulk around loose or cracked sealant on flashing, vents, ducts, and skylights. Replace bent or rusted flashing, or cracked pipe boots. Tighten loose panels and antennas and satellite dishes. Replace missing or damaged asphalt shingles or tiles.
If there is considerable granular loss on an asphalt roof, replace the entire roof.
If you are not the do-it-yourselfer type looking for roof repair tips, hire someone else to do the repairs or keep up with your metal roof maintenance. Get two or three bids from roofing professionals— or a general handyman service— that is bonded and carries both liability insurance and workman's compensation.
These Metal Roof Maintenance and Metal Building Roof Repair Tips Brought to You by RHINO Steel Building Systems.
RHINO steel building systems does not produce or sell metal roofing.
We do, however, sell strong, long-lasting, steel-framed structures with heavy-duty metal roofing.
Our metal structures come with durable 26-gauge steel PBR steel roofing in a variety of vibrant color choices. We also offer 24-gauge standing-seam metal roofing, as well as energy efficient reflective cool roofing, as roofing options on our metal building orders.
Call RHINO today at 940.383.9566 for more information on metal roof maintenance or for roof repair tips.
Be sure to ask about the many waterproofing features that make RHINO steel buildings durable and watertight, promising many years of problem-free service.