Environmentally Responsible Building Starts with Steel
Building green is one way we can help insure a better future for generations to come. Selecting sustainable construction materials like steel offers the most environmentally responsible choice for our children— and our planet.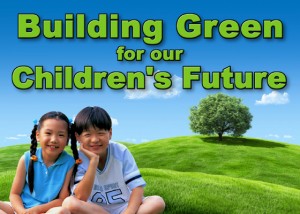 Green commercial and industrial builders today overwhelming choose steel framing for all their one to two-story construction projects. In fact, steel dominates all low-rise construction.
Steel frames 65% of all new commercial construction and 95% of all new industrial building in the U.S.
Aircraft hangars, barns, churches, day care centers, garages, offices, restaurants, self-storage facilities, stores, warehouses, and other building projects find building green both easy and economical with steel.
Five Ways Building with Steel Helps the Environment
The U.S. Green Building Council declares steel framing "the logical and responsible choice for Green Building." Steel building earns those green building accolades in the following five ways:
1. High Recycled Content: No other material on Earth matches the recycling record of steel. North Americans recycle 80 million tons of steel each year. All steel is 100% recyclable.
2. Saves Trees: Nothing protects and replenishes our air more than living, breathing trees. Trees convert carbon dioxide into life-sustaining oxygen, literally scouring our atmosphere clean. For every 1,000 square feet of structure framed with steel instead of wood, 20-25 trees continue to grow, creating enough oxygen to supply 4.5 people every day.
3. Lasts Longer: Durable steel buildings last decades longer than lumber-framed structures. The longer a structure lasts, the smaller its environmental impact.
4. Reusable: When a metal building reaches the end of its extended life, its steel framing lives on. Instead of being discarded into an over-crowded landfill (with the 136 million tons of other construction debris sent there annually), metal scrap yards buy the steel to recycle once again. That is one of the wonders of steel; it can be recycled countless times without losing any strength.
5. Saves Energy: According to the Environmental Protection Agency (EPA), buildings in the U.S. account for 39% of all energy used in the U.S.— and 50% of all wasted energy. However, a well-insulated pre-engineered metal building slashes energy use.
Leaving a Healthier Legacy to Our Kids
Every parent wants to leave their children and grandchildren an even greater life than their own. Creating a better world in which future generations will thrive is a significant part of that legacy.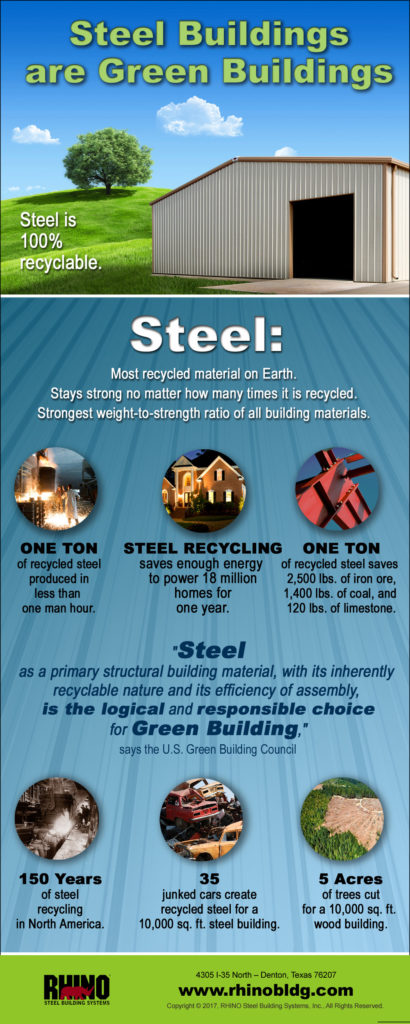 Teach your children to respect our environment and all its wonders. Show them by example that you care about their future. Building green with steel is just one of the many ways you can lead by example.
Build Green with RHINO Metal Buildings
RHINO's Pro-Value Insulation Packages drastically reduces energy consumption, cutting utility bills in half. Our optional reflective cool-coated steel roofing panels drop energy usage another 7% to 15% more.
For more information on building green with eco-friendly, economical steel buildings, contact RHINO Steel Building Systems today. Call us at 940.383.9566.