How Construction Efficiency Keeps Prefab Steel Building Costs Down
Streamlined efficiency helps pre-engineered metal buildings stay affordable for commercial and industrial structures.  A "waste not" mentality creates these low-rise wonders.  Consequently, metal buildings offer the most bang-for-the-building-buck.
Steel Production Efficiency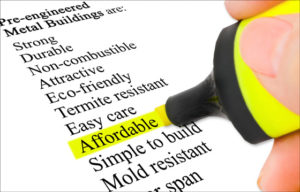 Due to constant strides to improve the end product, today's steel is actually 30% stronger.
Steel production is also much faster.
A hundred years ago, it took 70 man-hours to produce a ton of steel.  Innovations in steel manufacturing have reduced production time to less than two man-hours per ton of steel.
Design Efficiency
Designing and engineering metal buildings today takes dramatically less time than in the past.  Sophisticated computer programs developed for the steel industry ensure faster engineering.  These programs also design the strongest possible structure with the least amount of steel, keeping prices lower.
Construction Kit Production Efficiency
Steel building kit fabrication begins when the factory receives the detailed engineering drawings.  In the quality-controlled factory, professionals manufacture each piece to meet exacting standards.
Erection Efficiency
The steel building package arrives at the construction site.  It ships from the nearest factory, to keep freight costs low.
The superior strength of the steel, coupled with the efficiency of engineering, creates a highly effective building system.  Each part is clearly marked.  The plans indicate the proper placement of each piece of framing.  Everything is cut, welded, drilled, painted and ready to assemble.
Typically, steel buildings take 33% less time to construct than other building systems.
Pre-engineering all but eliminates wasted building material, too.  You do not shell out for culled parts or discarded leftovers.
Operational Efficiency
Steel buildings cost very little to maintain. Prefab metal home kits and buildings stay affordable by cutting operating expenses, too.
As a noncombustible material, commercial-grade steel garners lower insurance rates.  In addition, with an effective insulation system, steel buildings cut energy costs in half.
End of Use Efficiency
Many, many years later, when the steel building outlasts its usefulness, it saves money again.  The owner sells the steel framing to be recycled once again into new steel.  In fact, some contractors will actually pay the owner to dismantle the building so they can sell the steel.
Metal Buildings: The Cost-Efficient Choice
RHINO metal buildings stay affordable by keeping your project on time and on budget.  Eliminating waste from inception to completion keeps costs to a minimum.
Take advantage of the efficiency of prefab metal building kits.  Get a free RHINO quote on your next commercial or industrial low-rise construction project.  Call us today at 940.383.9566 for details, a brochure, and design tips for your construction project.