TIPS FOR SAVING ENERGY WHEN YOU BUY—AND AS YOU USE— APPLIANCES
Energy efficient appliances carry two price tags: the purchase price and the usage cost.
Many appliances cost more to operate over their lifetime than they do to purchase. To make sure you getting the greatest bang for your buck, look at the total price for new appliances— both the cost to buy and the cost of appliance electricity consumption.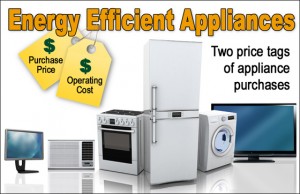 The following tips for saving energy will help you evaluate and find the best buy for you.
1. Do Your Homework.
Do not make spur of the moment appliances purchases. Sure, you want an energy efficient model that cuts your utility costs. However, you also need a product that is dependable and long lasting. Take time for due diligence. Check and compare on various online reviews. Consumer Reports is a great place to start. Visit other online appliance reviews as well.
2. Buy the Right Size.
Resist the temptation to buy an appliance that is larger or more powerful than your needs. While it seems logical that bigger is better, it may cost you more in appliance electricity consumption than it should. With room air conditioners, for example, an over-sized unit for a small area will cut off and on more frequently than a smaller unit will. The smaller unit may actually be more efficient in the end— and last longer.
Buying the right number of products saves energy, too. Many people now keep two refrigerators running— often a backup frig runs in the basement or utility room. One large refrigerator has less appliance electricity consumption than two smaller ones.
3. Check the Label.
The U.S. Department of Energy (DOE) now requires all major home appliances carry a yellow "Energy Guide" tag. These tags provide important information, including the appliance electricity consumption and the estimated annual operating costs— based on the national averages.
Also, look for the blue ENERGY STAR® logo on appliances and electronics. It indicates the appliance passed tests by independent laboratories for energy efficiency and durability.
4. Check for Additional Discounts.
Additional savings in the form of rebates and tax incentives reward purchasers of energy efficient appliances and electronics. Check for incentives available in your area at the ENERGY STAR® website and the Database of State Incentives for Renewables and Efficiency®.
5. Compare TOTAL Costs.
It is not just how much you pay for an appliance, but how much it will cost you to operate the appliance that matters most. Today's modern energy efficient appliances reduce energy use by 30% to 50% when compared to older appliances.
Assume the appliance will last at least 10 years. (Larger appliances may last 15-20 years.) Will you recover the difference in price for a more expensive model over a few years of lower utilities? Include any delivery costs, installation charges, and sales tax in your final price. Detract rebates or tax incentives. (Also, ask if the delivery service will take your old appliance to a recycling center.)
Use the information on the yellow tag to compare estimated annual appliance electricity consumption costs for the models that interest you.
Now you are ready to make an informed choice on the right appliance for you with these tips for saving energy.
Steel Buildings: Affordable to Buy, Inexpensive to Operate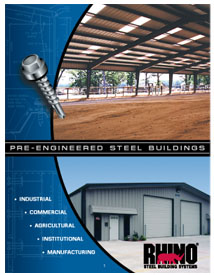 Just as there are two costs to consider when buying electronics and appliances, there are also two costs to consider when building— construction costs and operating costs.
When building a new home or business structure, consider choosing a pre-engineered steel building system like those available from RHINO Steel Building Systems.
Our metal buildings offer these benefits:
Built-in strength
Affordability
Faster construction with prefabricated, bolt-together steel framing
Longer lifetime
Virtually maintenance-free operation
Premium insulation options for 50% less utility costs
Deep insurance discounts
Built-in resistance to high winds, mold, leaks, lightning strikes, termites, fire, and earthquakes
Eco-friendly, recycled steel
Call RHINO today to learn more tips for saving energy and about appliance electricity consumption. We ship all across North America from multiple factories to keep shipping costs low.
Discover why so many people are hooked on RHINO and learn about our tips for saving energy. Our number is 940.383.9566.